12 Jul

The Epic Road Trip: Part One

In the course of my life, I don't think I've ever had a month quite like June 2018. After spending half a year living in Southern California, we sent most of our stuff home on a moving truck, packed up our Yukon with the essentials, three children, and a labradoodle, and began a sixteen-day trek across the United States to our house in Northeastern Pennsylvania.

Those of you who receive my monthly newsletter may have noticed I promised to "try" to blog about this epic trip. Now that we've been home for a minute, I'm going to make good on that promise. I ended up splitting it into two (or three?) posts, for the sake of length. Most of these posts will be photos, because, you know, a picture is worth a thousand words and all that.

Our last night in Ventura, we went around the corner to have seafood for dinner. On the way home, we walked up the beach. The sky gave us a glorious farewell that night.
The next morning, we took forever to get out of the house. That's par for the course, though. After much ado, we finally dropped off our rental car, turned in the keys to the house, and drove north toward Santa Barbara. You may be thinking that due north is not the direction you would choose when driving from Ventura to Pennsylvania. We planned to take a bit of a detour at the beginning of our trip. Having lived in the Northeast most of our lives, we had never been to the Pacific Northwest. Also, Todd's cousin lives near Seattle with her family, so we decided to drive north and make our way up the coast.
San Francisco
We visited San Francisco ten years ago. Dear friends gave us a spectacular tour of the city back then. Those friends have since moved, so we were on our own this time. Still, we knew the highlights we wanted to show the kids.
The next morning, we drove across the Golden Gate Bridge and met some friends in Santa Rosa for lunch. It was great to catch up, if only for an hour, and they suggested we stop at Glass Beach to break up our drive that day.
Redwood Forest
On Father's Day, we continued our northward course, stopping at Redwood National and State Parks. As with much of our sightseeing on this trip, we didn't have a lot of time to absorb everything. I'm so glad I asked a park ranger the best way to observe the redwoods without taking too much time. We drove a scenic parkway, and it was so worth it! We were able to stop and walk into the midst of these majestic trees only seconds away from the road.
It's hard to convey just how amazing they were!
Mount Rainier
We spent one night in Oregon. On the way into Washington, we observed the volcano Mount Hood from a distance. Then, we drove out of our way to make a quick stop at Mount Rainier.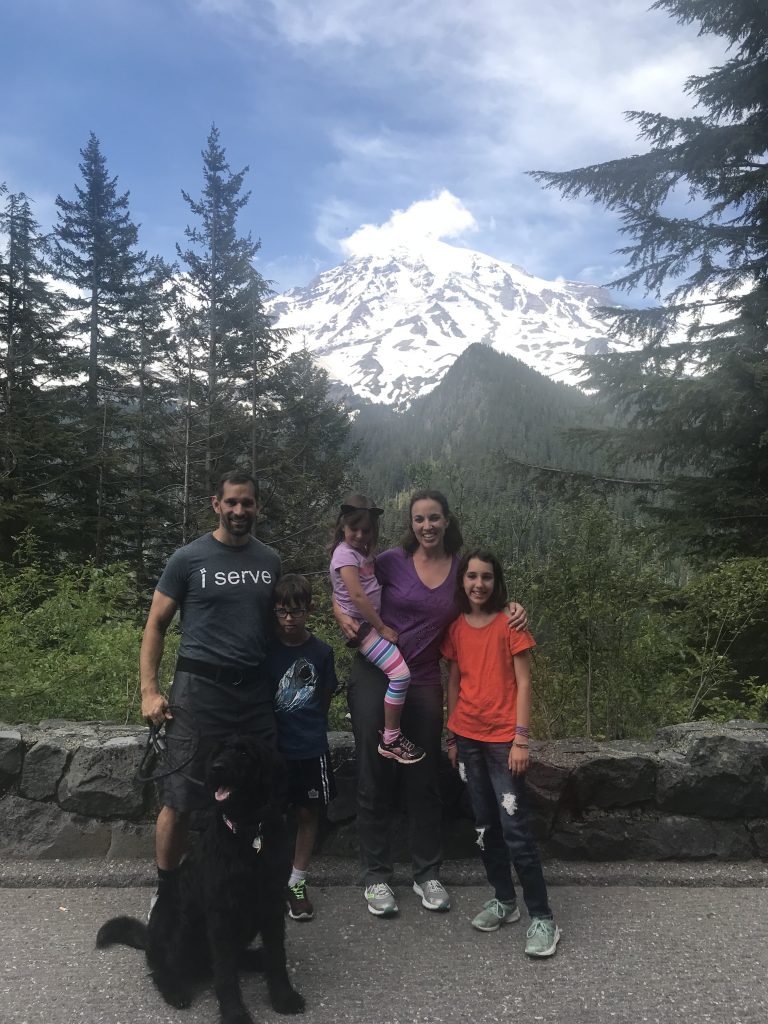 The kids whined about taking extra time on our drive that day. Why couldn't we just go straight to our cousin's house, they asked. I explained that they might not feel the need to see all the things we wanted them to see, but one day they would thank us. That day happened to be the very same day! Well, I'm not sure they actually said, "Thank you," but they really enjoyed Mount Rainier. From the sights, to the visitor center, to playing in the snow, it was magnificent!
On to Seattle!
We had a wonderful couple of days near (and in) Seattle with Todd's cousin Gretchen and her family. They were excellent tour guides, so we got a great overview of the city.
Also, it was just good to be with our cousins. We have friends who feel like family, and we have family who feel like friends. Gretchen, Jeff, Meeah, and Lewis, are both friends and family. I only wish we took a photo of all of them on this visit. Actually, Meeah was away at school, so we couldn't help that. We could have taken some photos of the rest of the family, though. I suppose that will have to wait until our next visit.
The subsequent installment in this series will be coming soon! As in, next week! I can't wait to share the rest of our journey with you!