04 Nov

What I'm Into: October 2016

"I'm so glad I live in a world where there are Octobers."

So said Anne to Marilla in Anne of Green Gables,

and I quite agree with her. We had a beautiful October. The foliage was especially vibrant this year. Now the leaves are falling and the Holidays are just around the corner. My mom had heart surgery on Wednesday in a top-notch hospital out of the area. As a result, we've been busy and emotional around here this week. My two youngest siblings (teenagers) are staying with us and I've been texting and talking with all my other brothers and sisters as we get updates from my dad. Ergo, I didn't get to blog yesterday. But that's okay. I know all three of you have been holding your breath, wondering when I'm going to post

What I'm Into with LeighKramer.

You can exhale now. Here I am!

What We've Been Doing . . .

October is arguably our busiest month. On the last day of September, Camilla had an American Girl Sleepover Party to celebrate her tenth birthday! I know, I already mentioned that, but I felt it was important enough to reiterate. We followed that up with a small family party on the 3rd for her actual birthday.

The very next weekend we had family over again to celebrate Adrian's 7th birthday! I think my family is sick of seeing the inside of my house, buying birthday gifts, and singing happy birthday. I know I needed a nap once we were all done. Why on earth did we have all three kids' birthdays in the space of a month? You'd think we might have planned that better. Of course, I am the woman who didn't think it was a big deal if we got married the first Saturday of deer season. I didn't realize that meant our anniversary would be in early hunting season. Every year. For the rest of our lives.

I did not think that through.

Moving right along . . . we got Camilla and Adrian new bikes for their birthdays, so we went for a family ride on a beautiful Sunday afternoon.



This past weekend, we decorated our trunk for our church's Trunk-or-Treat event. Camilla was super-excited about this project and thought of outlandish expensive time-consuming possibilities. I went on Pinterest and found the idea for a zoo. When the kids jumped on it and started gathering stuffed animals, I was relieved. It was so easy and cheap, I couldn't believe they agreed to it! We had fun with it, though. And handed out candy to about a thousand children!
We did our nine-mile hike to the Pinnacle again. We love this portion of the Appalachian Trail and try to hike it every fall, when the leaves are at their peak. We were planning to do it the third weekend of October, but Eva had a small bout with croup and we were all a little under the weather, so we rescheduled and ended up with an unusually warm day for the end of October. Our niece Olivia was a trooper and came with us, which made it even more fun!
What we've been reading . . .
I almost feel like I should remove this section entirely. Not really. I love reading too much and I'm determined to do more of it. We just haven't been reading a lot together, so my overall number of "books read" has dropped a bit. Camilla had some projects to do for school this month, so we spent time working on those. I read some picture books to Adrian. He really seems to enjoy this and I can also sneak in some reading practice for him this way. Eva has also been allowing me to read to her more. She didn't enjoy reading together much in the past, and I didn't push it because I was into reading with the older kids, but now I'm thrilled to announce that she's tolerating being read to! Lately, she likes to hear There's a Wocket in my Pocket! Nothing like a little Dr. Seuss to brighten your day.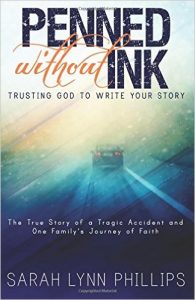 I finished Penned without Ink by Sarah Lynn Phillips. It was a great read about a terrifying car accident Sarah and her family survived and the way God walked with them through the aftermath. What a beautiful testimony of God's loving care for us!
I'm working on several books now. I started 12 Years a Slave by Solomon Northup. This is a riveting true story of a free black man who was taken captive and forced to be a slave in pre-Civil War America.
The other night while I was painting our dining room, I began listening to the audio version of Hotel on the Corner of Bitter and Sweet. I'm loving it so far. I'm thinking of doing a lot more painting in the coming month, and maybe listening to a few more books, too!
What I've been listening to . . .
More of the same, really. I still love The Simple Show with Tsh Oxenreider, especially this episode on routines and golden hours. My favorite podcast this month was Erik Fisher's interview of Srinivas Rao on Beyond the To Do List. I listened to it twice. There is so much meat in this episode regarding creativity, habits, and handling the pull of social media. I think I knew on some level, but still did not realize the extent to which social media and screentime can have a detrimental effect on our mental health.
What I've been watching . . .
In spite of the detrimental effects of screentime, I've allowed myself to get sucked into another TV series. Todd and I are finally watching Lost, over ten years after its release. I know, it's pathetic, but we just never got into it before. Now we are. And I've been going to bed much too late.
Camilla was home from school sick one day and I talked her into watching Anne of Green Gables. I feel sad that I had to talk her into it, but she actually enjoyed it once we started.
In other news, I did not watch the third and final presidential debate. I am fed up and pleading the fifth when it comes to political discussions. Can't wait until the hatred is over. So glad I know the King of the World, no matter who is president of the United States next term. The end.
I hope your October was glorious and that you decorated your bedroom with maple boughs! (Another Anne reference. I couldn't resist!)

Disclosure: This post contains affiliate links. If you click them and make a purchase, you help support my work without paying any more for the product. Thank you for your support!