04 Aug

What I'm Into: July 2016

Ya'll, where did July even go? This was one crazy busy month for my family. Today I'm grateful for the opportunity to link up with

Leigh Kramer

for

What I'm Into

!

Family and Friends . . .

I think I spent at least half of July hanging out at my parents' lake. July 2nd was the biennial reunion for my relatives. It was wonderful to visit with so much of my extended family all at once. It had been a long time since I'd seen some of my cousins and I love how everybody works together to make the Reunion a great day.
Some of my favorite aunts and uncles chilling by the dock.
Since we had a lot going on Saturday and Sunday of that weekend, on Monday July 4th, the five of us stayed home and did one of my favorite summertime activities—a campfire in the backyard. Todd set off some (legal) fireworks and we roasted marshmallows in salute of our great country. Sometimes I get discouraged about the USA—especially when I see the choices we have for our next president. But I must say, when I came back from Haiti I was very glad to be an American. I'm thankful for our independence and the men and women who sacrificed so much for it.
Three patriotic Treats!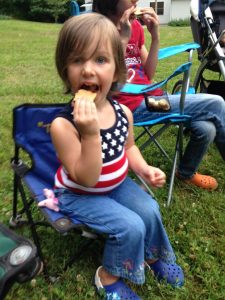 Watching her eat this s'more was better than eating one myself!
The next weekend we had loads of summer fun at our church picnic. The kids and I spent about four hours in the pool and then Todd and I started playing volleyball with some friends. It had been years since I played and I was surprised how quickly it came back. We used to play a lot "back in the day"—for fun, not on a team. We are definitely putting up a net in our yard now!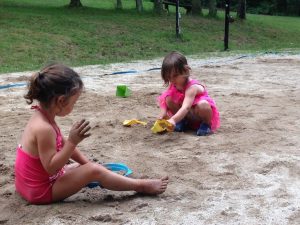 Kids playing in the sand volleyball court while we got our game on.
The highlight of the summer, with almost unbearable anticipation by everyone involved, was a visit from two of my brothers and their families. My sister came for two days also, so we had seven out of eight siblings together to celebrate my parents' 50th Wedding Anniversary. My other sister put together a beautiful slideshow and the one absent brother sent a video message to my parents. Everything came together to show my parents we love them and appreciate their fifty years together! It was a great day—a little exhausting, but that's all part of the ride. And that's how we earn the right to sit around in an inner tube after the festivities are over.

My siblings were around for four days and we packed those days with fun on the lake, a sibling lunch (just the grownups, please!), and a cookout and bon fire at our house. Whenever family visits, I want to make the most of every moment we have together. As the last of the cousins drove away from our house, Camilla dissolved into tears because we just don't see them enough. I was right there with her.
Cousin (and uncle) craziness at Grandma's and Grandpa's
Photo Credit: Amanda Mountain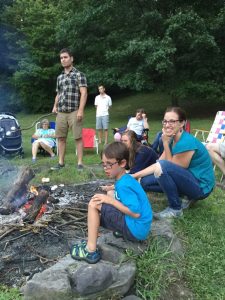 Marshmallows!
Photo Credit: April Roskos

Writing and such . . .
I made a last minute decision to go to the
Montrose Christian Writers' Conference
this year and I'm so glad I did! I've attended this conference sporadically since 2000. Montrose is a hidden gem in the Endless Mountains and the conference is always helpful. I made new connections, caught up with old friends, met an
internet friend
in real life, and learned a ton! This year the conference lit a fire under me. I came home and commandeered
Jeff Gerke
to redesign the text on the cover of
One Traveler
. I have great future plans for my blog, thanks to a workshop and private blogging session with
Don Catlett
. These plans aren't really visible here yet, but stay tuned!
Also, I'm off to a great start on my next novel. More about that in a future post. I could only attend half of
Larry Leech's
workshop on "What to do After Conference," but his quick explanation of how many words to write a day in order to write a book in six months really opened my eyes. I can do basic math myself, but I guess if someone else does it for me I understand it better? Regardless of whatever warped reasons are responsible, I'm enjoying my newfound motivation! And I'm trying not to be frustrated when circumstances don't allow me to work as much as I want to. After all, the kids will not be young forever. I'm realizing this more as the years march on. I am resolving to embrace the craziness and enjoy the journey!
What we've been reading . . .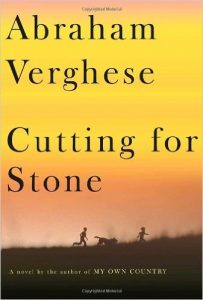 Didn't you just plow through all the stuff we've been doing? Of course we haven't had a whole lot of time for reading! I started listening to
Cutting for Stone
on
Overdrive
, but it is super long and I don't have a lot of no-kids-within-earshot time for listening, so it automatically returned to the library before I finished. I don't even think I was halfway through. I checked it out again, but now I have to find my place. Sigh. Who has time for that? I was enjoying the story and the language is absolutely stunning, though it is a little slow moving. How could it not be at 560 pages in the print version? I will get back to it, though. I know it will be worth it.
I'm also working on
Chains
by Laurie Halse Anderson. This is one I could read to the kids, but I'm enjoying reading it by myself. The kids and I are still working on
The Voyage of the Dawn Treader
. I specifically remember some of the scenes from this book when I was a kid listening to my dad read it. Some of it really frightened me, but so far my children have taken everything in stride. It's just taking us a long time due to all the visiting with cousins and late-night s'mores eating.
In other news . . .
The kitchen is pretty much finished! Thank the Lord! And I love it! I mean I really, really love it! We have a few things to finish up and we're going to replace the refrigerator soon also. I'm sorry about all the photos, but I have to share it in all its un-Pinterest Perfect glory!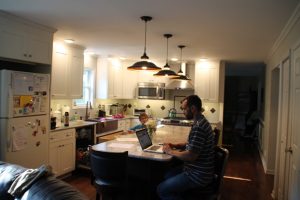 First a photo of the new kitchen in use. This is how it looks most of the time (if not messier)!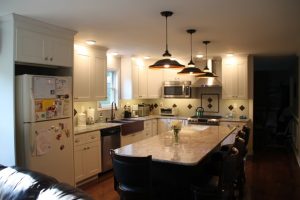 Here it is–cleaned up a little bit.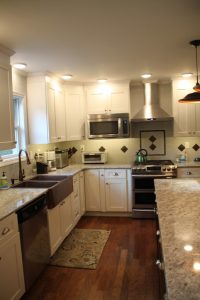 Another angle.
Still another angle. What a joy to be cooking in this dream come true!