24 Mar

My attempt at decluttering with Simple Mom

Look to the right. No, not that far. Just to my sidebar where I have proudly displayed the logo of Project Simplify for the past three weeks and have not participated in any other way. Until this week. This week, Tsh Oxenreider of Simple Mom chose the hotspots "Closets, Countertops, and Drawers" and I decided I had to do it. I've been wanting to declutter my counter and junk drawer anyway, and I couldn't resist the chance of winning a Neatdesk if I link up to Simple Mom with my before and after photos. So, I buckled down and got to work.

My kitchen counter has seen better days. Let's just say since Adrian was born I have progressively become more of a slob. I used to be known as a neat freak. Now I'm a recovering perfectionist.

On Monday, the kitchen counter looked like this.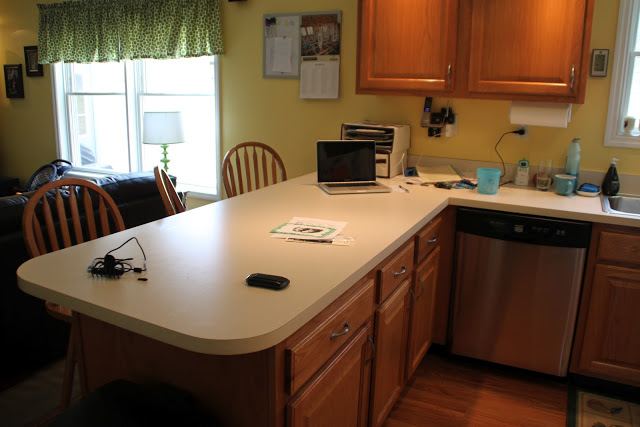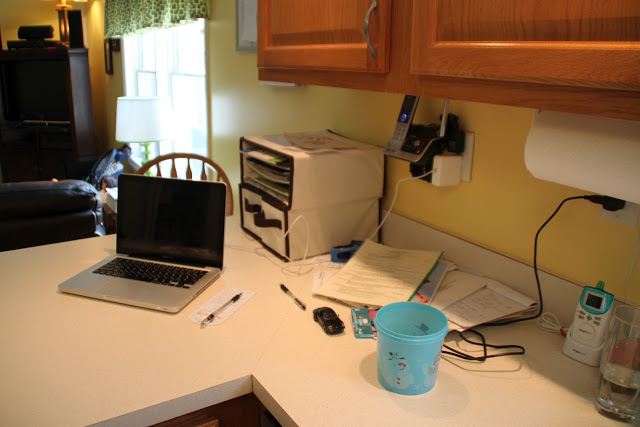 Those papers underneath the phone just had to be taken care of. And the kids' stuff seems to appear out of thin air. I'm thinking of making a rule that if I find it on the counter it's mine to dispose of, but I haven't figured out whether that's fair yet. After all, the counter is also the craft spot. Hence, the new storage thingy from
One Step Ahead
. Can't say I love the storage thingy, but it works better than a bin full of craft stuff that Camilla could barely lug from our cabinet to the counter. Now she can get everything out and put it away herself. But that was already done before Project Simplify began. I'm getting off track. This week I took care of a lot of the paper clutter and put the kids stuff away. Here's the end result.
This is command central, so I'm okay with my laptop being there, as well as our cell phones and even my little notebook, as long as I can quickly stow it in the "junk drawer" if I need to.
Which brings me to a project that I'm even more pleased with. The junk drawer.
Here it is on Monday.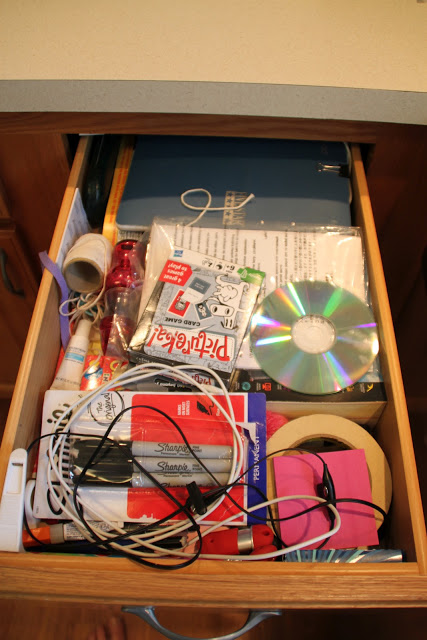 And here it is today.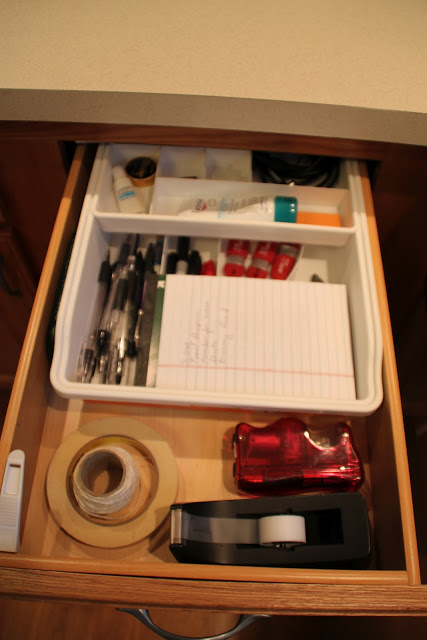 I must say I am very pleased with these results! Now forward to the rest of the house!
P.S. I feel like I'd be a hypocrite if I didn't admit that during the process of finishing this project this afternoon I was very impatient with Camilla. I shouldn't even say was, because at this moment she is continuing to talk to me while I work and I am continuing to shoo her away with a not-so-nice tone of voice. I'm not entirely sure this was worth my neat counter.