07 Mar

It was the best of times, it was the worst of times . . .

Last night as I was falling asleep, I was thinking about the friend I mentioned in

this post

. She's my

oldest

longest friend. We met when she was born. I was 13

months

old. Last night, I was thinking about what she's going through now—the fear and the worry and the wondering if everything will be okay. I was praying for her, too, and pondering everything we've been through

together

over the past 34 years. How she's heard all my heartaches and worries and disappointments. When she and I were fifteen and sixteen, we spent the week at camp fighting and I thought we might not be friends anymore. Now that seems like the silliest thought of all. She's my "real life" friend, so she knows things I will never share on this blog. And she knows things that I might eventually write for the world. She's one of a precious few who's believed in me my whole life long.
A grainy photo of us from "back in the day".
That's just some background. What I really want to share is my thought process last night. I was wishing I could do more than just pray for her. I know that prayer is powerful. I see that clearly. But as I lay awake wishing I could do something more to ease her suffering, I thought about my pregnancy with Camilla.
For the most part, my pregnancies were healthy and uneventful, and for this I am so grateful. But they were not without fear. I have Rh-negative blood. Now, I'm not a doctor, so my description may not be a perfect medical description, but my understanding is that if I were to have a baby with Rh-positive blood, there is a potential that the Rh factor could come into contact with my blood and possibly cause my body to build up antibodies that would cause it to then reject the baby, and any future Rh-positive babies. Thankfully, we have Rhogam now, which protects against these problems. Still, Rhogam is not generally injected until later in pregnancy and since I had spotting several times in early pregnancy, I was a complete mess of worry during my pregnancy with Camilla. I was afraid first of all, that I would have a miscarriage. I knew too many women who'd been through that pain. But I was also afraid that my blood would come into contact with the baby's blood and I wouldn't realize it. Then, not only would I lose this baby, I'd never be able to have a healthy baby.
This may seem far-fetched—and actually, it is unlikely in this day and age. But one of my mom's close friends has Rh-negative blood and her first baby (who is Rh-positive) was born the year before Rhogam was developed. That child is healthy, but her next child is severely mentally disabled. And she went on to have several late-term miscarriages after that. Now, God has used this family and these situations in ways they never imagined, so I really should know that I can trust God to carry me through everything in my path and to use it for His glory, right?
Well, I don't like the word "should". I wasn't at that point yet. Maybe I'm still not. But at that time, the idea of going through all of that was very real and very scary to me. I would pray that it would be absolutely clear to me if I needed Rhogam.
In the midst of my early pregnancy with the spotting and a dark fear of miscarriage hanging over me, God answered in another way. The night before my first ultrasound, when we would find out if the spotting was a sign of a major problem with the pregnancy, I had a dream.
It's hard to describe something so personal as a dream right from God. I don't analyze dreams for a living, or even as a hobby. But this one was straight from heaven. I knew it then. And I know it even more today. All I could think in those early days when I didn't know the reason for the blood was of the women who had lost babies, that I was no better than they were, and what on earth was so special about me that I shouldn't have to travel through that pain? And so I held back my faith. In my dream I was the unfaithful servant from the parable of the talents in Matthew 25:14-30.
I spoke to God much as the servant did in verses 24 and 25:
'Lord, I knew you to be a hard man, reaping where you have not sown, and gathering where you have not scattered seed. And I was afraid, and went and hid your talent in the ground.'
My words were more like this, though, "Lord, I know you are not fair. You took the babies of these women that I love. So I don't know how to trust You."
And God said, "Invest all your faith in Me. Don't hold back. I won't let you down."
Of course you know the end of that story. My baby was all right. She's the kid who sasses me now. The one I cry over and can't seem to stop loving. I still worried and fretted over every little thing during the pregnancy, but I clung to the promise God had given me in my dream. I needed it when I was given a false diagnosis of cholestasis of pregnancy and was told she could be stillborn if I wasn't induced. But that's another story altogether.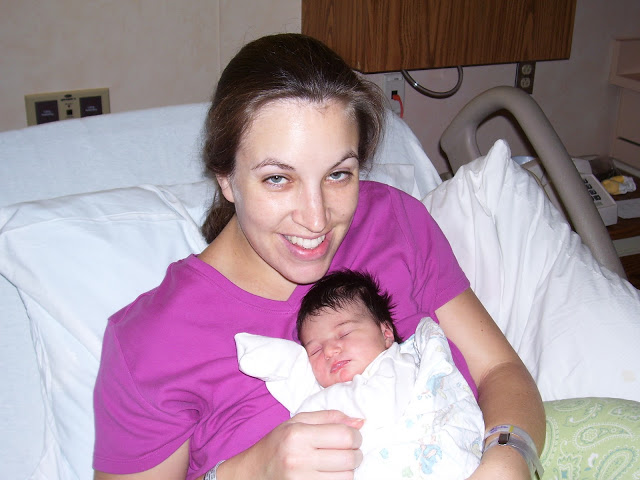 So you think you know the end of the story, right? Because she was born healthy and beautiful. But there's one little part you might not know. She also has Rh-negative blood.
God knew it didn't matter if I ever received Rhogam. My body could never build up antibodies and reject that baby. Interestingly, Adrian also has Rh-negative blood. When I was pregnant with him, I had a better doctor who explained how significant a bleed would have to be in order to cause a problem. That explanation, and (I hope) more faith, meant I had a lot less worry the second time around.
So why do I share all this? Just because I was thinking about my friend and it reminded me of my own story? Kind of. I've never been through anything as harrowing as her experience with this pregnancy. But my prayer for her is that she would have something tangible to hold onto. Some kind of promise like the one I was given. Something to give her a sense of how special her tiny little boy is going to be.
Think of it. There is already a battle for his life.
Won't you join me in this prayer?