08 Feb

On becoming the Tooth Fairy

My baby girl just lost her first tooth. That may not seem like a big deal to those of you without children, but I remember when that tooth first broke through her gums. If I close my eyes I can conjure up the drooling, the crabbiness, low grade fever. All of it. And then, there it was and "Oh! That's why she's been so crabby." And, "Wow! This is kind of early. She's only five months old." And then, "She has a tooth now. Am I going to feel that when she nurses? Ouch!" (If you must know, Camilla only bit me once. Adrian, on the other hand . . . )

So she was five months old and cutting her first tooth. I blinked and she was five years old. A few weeks ago, she said, "Mom! When I push on my tooth it swings back!" I knew exactly what that meant even before I went to investigate. And yes, I could feel the tears starting to my eyes. I was not expecting this. None of her friends had lost teeth yet. It hadn't become "the thing" for her crowd. So it caught me by surprise.

Todd offered to pull it out for her.

"No!" she answered. (That's my girl!)

I told her eventually it would fall out. She didn't have to pull it unless she wanted to.

Last week we noticed a humungous adult tooth growing behind the baby one in her tiny mouth.

A few days later, she asked me to pull out the loose tooth.

I said, "I will if you want me to, but it will hurt a little bit."

"Never mind," she said.

Saturday she was making her bed and wiggling her tooth and it just came out.

We did a little happy dance because it's exciting!

I mean, really. You only lose your first tooth once!

So, while I was sad when she realized it was loose, I had enough time to adjust that I could cheer when it came out.
"How do you want to celebrate?" I asked her.
I must have forgotten to whom I was speaking. This is the girl who is currently planning her seventh birthday party. Her sixth has already been planned for months and that's not until October. So of course, we had to have a party. I talked her down to a little party with just Mommy, Camilla, and Adrian. (Daddy was gone for the day.) We made chocolate chip cookies. We got out the leftover party plates and napkins. We I blew up balloons and hung them up. I cut her off somewhere around seven balloons. My mouth was tired. (Mean Mommy!)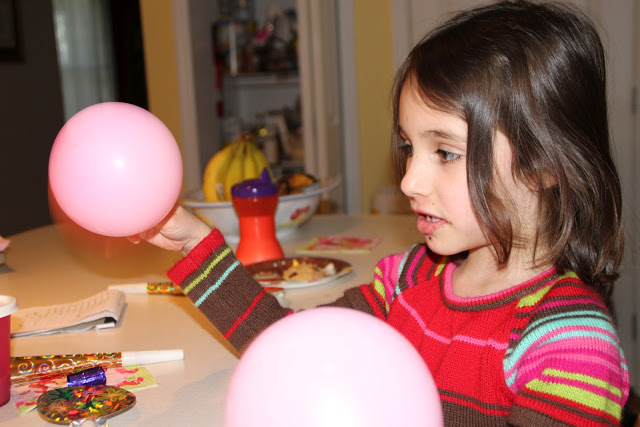 I once heard about a family which celebrated each new stage with delight. Rather than bemoaning how quickly their children were growing up and leaving home, they approached each milestone with excitement as their children became more independent.
This is hard for me to do. But I want to try.
My brother talks about his twelve-year-old (almost thirteen—gulp!) daughter with joy. He and his wife look forward to the teenage years as they see her slowly becoming a woman before their eyes. They know they will have their share of difficulties, but they're excited to see who she will become.
I want to approach my children's coming of age that way, too. It is exciting right now. I'm enjoying getting to know Camilla as she matures. We still have lots of struggles with her. She's not an easy kid. But she has a wonderful imagination, a strong spirit, a sense of who she is. Those are all good things.
Sometimes I have a glimpse of the future. Just a flash, really, of what I envision her becoming. Stretching out. Skinny and tall.
Flashing by me on the ski slopes. "Hurry up, Mom!"
Curled up with a good book.
Teaching her brother something new.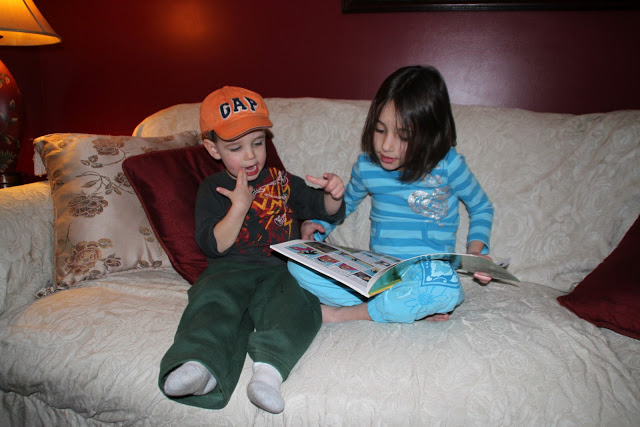 And it feels good to look forward to the future, instead of yearning for the past when she was a baby and I could hold and rock just her. When she was my weekday world. Remember those days?
I can't help yearning a little bit now and then.