15 Sep

Remember how I wanted to go on a missions trip?

Since January, or earlier maybe, I've been thinking this might be my year to dabble in missions. After talking with my brother, a seasoned missions-tripper, about how to be sure you're helping, not hurting, on a short-term missions trip, I concluded that disaster-relief was the way to go. And this summer left me with no shortage of ideas about where I might be needed. I'm not trying to make excuses, I've just allowed myself to become too busy to actually make the plans and take the trip. First I was thinking Joplin or thereabouts, then, just a few weeks ago it seemed that our beloved Outer Banks might be in need of some help after being hit by Hurricane Irene. After the outskirts of Irene rolled through our own Northeastern Pennsylvania, it hardly stopped raining here. Last Tuesday and Wednesday we joked about building an ark. We were not far off.

Hurricane Lee dumped enough rain on our area to cause record flooding. We live about two miles from the Susquehanna River. Fortunately, for us, that's two miles uphill from the River. One week ago today I began to realize that my mission field was my hometown.

These are the photos we took last Thursday.

One of the tributaries of the Susquehanna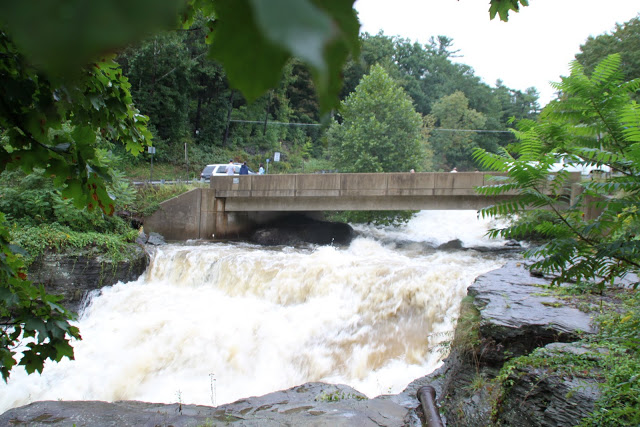 The bridge across the Susquehanna. (Usually the water is far below the bridge.)
Yes, that is a house. So sad.
At this point, the local police asked us (and all the other rubberneckers) to leave the bridge. The roads in our county were being reserved for emergency vehicles. The mighty Susquehanna continued to rise. It was the worst flood in 39 years.
My friend
Sarah
took the following pictures from the air. Her husband piloted the aircraft.
That's our little town on the left, submerged.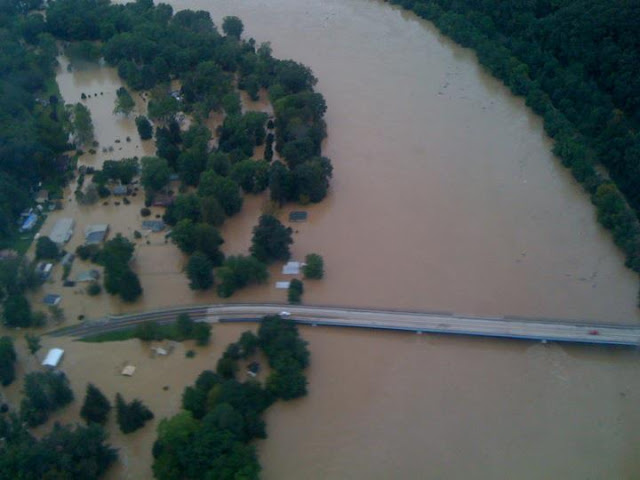 And from the other direction, with the town on the right.
So, I'm discovering that it's a little different living right next to the disaster. If I went on a trip to help with disaster-relief, I would obviously leave my children at home and throw myself headlong into work while I was there, coming home to life as it used to be. As it is now, my kids decided to get sick this week. Camilla vomited in the Wal-Mart parking lot where I was planning to buy cleaning supplies to take to the Fire Hall. Donating said cleaning supplies, as well as some clothing and diapers, has been the extent of my help so far. I was close to tears yesterday, wishing I could do more, feeling helpless and worthless. But today as I dropped off the clothing and diapers at a local church, I ran into an old coworker who'd been flooded out. Maybe we can help him with some of his needs. It helps put a face on this thing for me, anyway. Let's just call it an appointment with JoJo (that's his name), made by God. I'm hoping to find some ways to be more hands-on in the coming weeks. Pray for me . . . and for all the flood victims in Pennsylvania.