27 Jun

Imagine I am writing this with my tongue firmly planted inside my cheek

I'm a tough act to follow. Seriously. My last post was so poignant and breathtaking that ever since then each and every idea is blown out of the water when I look over that May 24th post. I might as well just give up now. I've written my best post. Better to quit while I'm ahead. Right?

Maybe, but I'm going to keep going anyway. Perhaps now and then I'll write a brilliant post. So what if the rest of them are just everyday thoughts racing through my brain and spilling out onto the computer screen. Some of my writing friends don't write blogs. I could handle that—I've been so into my WIP (work-in-progress) lately. I'm getting antsy about finishing it so I can get it out there for the world to see. It's been a WIP for a long time. But I don't spend every day writing. I'm a stay-at-home mom. (Actually, I'm a leave-home-and-run-around-town mom, but it takes up more space to write that.) On a good week I might log six hours or so—writing. I'm talking about writing again. Those six hours usually include any blogging I do. But, although it's tempting to give it up and work exclusively on longer term projects, I like blogging. The quick idea-to-publishing time is a draw—and very different from my other writing. It's like exercising muscles that aren't used very often. Kind of like my weekly run to balance out the strength training I do at the gym.

Two weeks ago I started out on my Sunday morning run . . . and. just. stopped. I don't know why. I didn't feel like running. Some days I just stare at my blog . . . I've been doing that for a month now. So it has to end. Since I ran a solid four miles yesterday and felt great, I think I can write a blog post tonight.

In all honesty, though, I haven't been staring at my blog that much. I've been . . .

. . . baking a birthday cake. (And I ate a heck-of-a-lot of it, too.)
I've been gardening.
Taking care of chickens.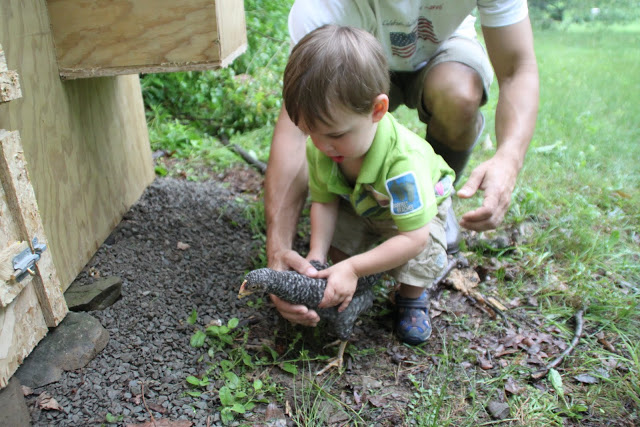 Yes, I am aware that Adrian was holding a chicken and then promptly put his fingers into his mouth.
Tonight we were searching frantically for the chickens and praying some predator didn't have them for lunch.
I have also been . . . not cleaning the house–well, not much anyway.
And eating a low-yeast diet for the past (almost) four weeks in the hopes that it would prove beneficial to my health. So far the benefits have not outweighed the costs in my mind. I am dying for an iced mocha. Or a brownie. Anything chocolate. Okay, I have no photo to go with that, but it's racing through my brain and does not want to be ignored. Two weeks and two days to go . . .
A few weeks ago I wrote a fantastic poem about country living . . . and the draw of the city. I mean, the City, capital C. I have not been able to find the poem since. I wrote it one Monday night and thought, Maybe I'll put that in a blog post with a bunch of photos from New York City. I decided to sleep on it and now the poem is gone. Gone! And it was spectacular. Perhaps it will come to me again, but for now I will have to use pictures, which are, as you know, worth a thousand words a piece. Forgive my long-windedness.
This is country living:
This is the pull of the City:
Yes, I know. I was totally unfair to country living. But country living gets a lot of screen time on this blog, so . . . deal with it. I heart New York.