19 May

Rainy Day Ramblings

Posted at 18:26h

in

Adrian

,

Blueprints

,

Camilla

,

Family

,

friends

,

gardening

,

marriage

,

simplifying

,

single-tasking

,

slowing down

,

vacations

2 Comments

Ah! The hour or so after naptime and before dinner–not exactly my favorite time of day unless I remember to savor it. The boy usually needs a good long snuggle after he wakes from his nap. If I'm in the middle of making dinner, this does not work out well. Today, although I was hoping to go for a walk (only partly because I wanted to work off the massive quantity of cookie dough I consumed while baking this afternoon) it is thundering and pouring rain. It's just as well, though. Camilla is heavily involved in sculpting with Play-Doh at the moment. I don't need to prepare dinner. The kids and I are having leftover casserole since Todd will be home late. So I might as well sit down to my neglected blog while snuggling Adrian. Is this acceptable multi-tasking? I hope so. He doesn't seem to mind.
Life has been crazy lately. Last week we went to the beach with a good portion of my family (all but two of my siblings–with a family the size of mine that is a good portion). We had a great week in the sun. We arrived home Saturday only to turn around on Sunday and head to an overnight excursion with Blueprints, the spectacular young adults group from our church. Yes, we are still considered young adults. As opposed to the 50 and older group, I guess. (I must add that I'm still well under 40, but there are people in Blueprints who are not.) Although we had a blast with our friends, I'm not sure this extra little trip helped with the slowing down and simplifying of my life. The rest of this week I've been up to my neck in laundry, planning a surprise party for our Young Adults Pastor, who was just ordained, getting ready for a cookout we're having tomorrow night . . . and I have still not finished unpacking. I am so tired. Such a rough life, I know.
In other news, our chickens were killed before we even brought them home! A friend was keeping them for us and a fox got the better of them. So we will have to wait a little longer before we have fresh eggs. All this rain has prevented us from planting anything in our garden so far. And I am planning to look into some kind of disaster relief missions trip to the tornado-ravaged southern region of our country.
Also, I am very disappointed in Arnold Schwarzenegger. I'm not sure why. I guess I just like to see long-standing celebrity marriages and when I find out it was a sham it bothers me. But that's all I'm going to say about Arnold. The subject doesn't even deserve a mention on my blog.

Now, some photos from the beach!
All eight of my parents' grandchildren!
Until Cal decided to ditch them.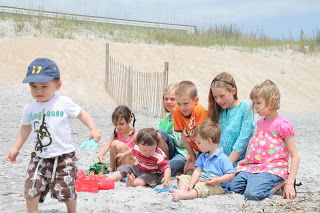 Back home, Camilla pushed Adrian on the swing yesterday.
Love his expression!
Precious faces.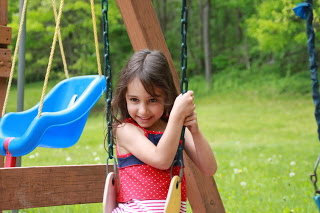 Now I really need to run. I think my son has been eating crumbs from the floor!