02 Dec

Ten years down . . .

It seems like so long ago, yet at the same time it's hard to believe that ten years ago right now, I was standing at the altar, pledging my life to my beloved. I don't have time to write much today; at least not the time I would need to do justice to our ten years of marriage–the joys and sorrows, the rocky places, and how God's grace has seen us through. For the beginning of the story, see

this post

. I'll include some of my favorite pictures of our wedding day.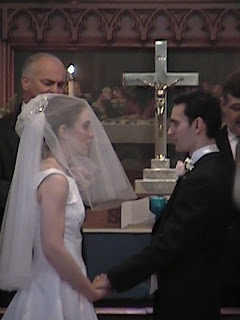 Set me as a seal upon your heart,
As a seal upon your arm;
For love is as strong as death,
Jealousy as cruel as the grave;
Its flames are flames of fire,
A most vehement flame.
Many waters cannot quench love,
Nor can the floods drown it.