29 Dec

Christmas Snapshot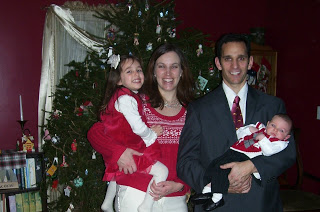 I figure I will blog more often if I just write quick posts now and then instead of trying to keep the world up to speed on every development in our lives. On Christmas Eve, Camilla opened a pair of pajamas from her Aunt Linda. They were so cozy and inviting that she carried them around for a while. When we got ready for bed later, she was devastated that they were too big. Now, Todd and I were completely willing to let her wear them with the sleeves and legs rolled up, but Camilla is rather picky about how her clothes fit. We comforted her, explaining that they will fit her eventually. Then I decided to use it as an opportunity to encourage her to eat more than her recently developed habit of two bites per meal. I said something along these lines, "If you eat your food, you'll grow and you'll fit into your new jammies!" Well . . . the next day at Christmas dinner, I was very pleased to see her chowing down on a turkey leg.
I thought maybe I had hit upon a good strategy. Until that evening when our exhausted, sugared up, overstimulated, AND feverish little girl asked to put on the jammies again.
I said, "Honey, they're still going to be too big. They won't fit you any better than last night."
Bursting into tears, she wailed, "But I ate!!!"
Oh, my heart!
I will try to post some better photos soon, when I learn how to use my new camera! I have to add how much I wish I could remember forever just how precious Adrian's cheeks are, when he's sleeping all nestled into my neck. I can kiss his face and my lips envelope one whole little cheek! He smells like milk and babyness and his lips purse in a stubborn expression that says, "I am not going to wake up to finish nursing so don't even try!"