23 Nov

I can't help it–I just think she's cute!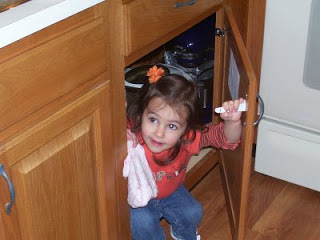 For some reason, Camilla thought this cupboard would make a good "boat".
On Halloween, we went to a local church for their "Light the Night" program. Lots of fun activities for kids, and a great way to spread the light of Jesus to the neighborhood. Since Camilla loves Winnie the Pooh, I thought her costume was appropriate. We didn't get a great picture of her with the hat on, though. She was very sober.
She finally warmed up, playing in the bouncy house with her friend,
Hannah
.
And when Daddy threw her up onto the giant slide, she gave us a big grin!