27 Sep

Trip to California: Part V, Los Angeles

My brother, Seth, and his wife, Mandy, live close to LA. My little brother, Jonathan, lives with them, too. So we invaded their house from Thursday, August 21st, till Sunday, August 24th. On Thursday, we just hung out in their condo. Seth grilled on the roof of the condo complex. We had a great view of the city while we ate dinner. Friday, we went to the Peterson Auto Museum.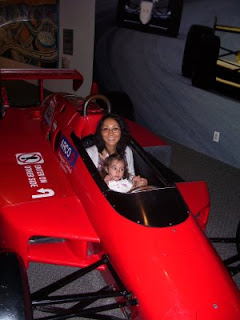 Camilla riding in a race car with Aunt Mandy.
She preferred the fire truck, which was her own size.
That evening, Seth took us all out for a wonderful meal at a Thai restaurant. We don't have good Thai at home, so that was a treat!
Uncle "Nonny" (read that Jonny) is really good with the guitar!
Saturday we went to the Getty Museum where we viewed beautiful artwork and took a garden tour.
Classic expressions–for both of them.
Seth and Mandy hanging out on the grounds.
It was a priviledge to spend so much time with friends and family. Thanks so much to Seth, Mandy, and Jonathan, for being wonderful hosts. We had a great time on the West Coast!