04 Sep

Trip to California: Part I, San Francisco

August 15th, the three of us began our big California vacation! I was really looking forward to visiting friends and family and seeing part of the country we'd never been to before. We flew to San Francisco first to visit Kristina, Cory, and Carter. I was nervous about how Camilla would do on the plane, but she was actually pretty calm. We just kept her busy with some new toys. She was exhausted, though, since we had to get her up at 4:30 Eastern Time to catch our flight! I forced myself to wake her up from her nap for dinner that evening so her inner clock would start to adjust. We put her in pajamas and dragged her out for some sight seeing.

Lombard Street
Standing by
Coit
Tower (note Camilla's mood)
The first three days, Camilla was pretty much a mess. Especially when faced with a camera or a meal.
On Saturday, August 16
th
, we went into the city again.
Here we are at Fisherman's
Wharf
, near Pier 39. Can you tell it was windy?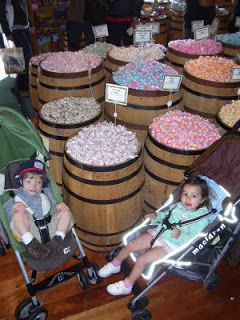 An awesome saltwater taffy shop!
After giving the kids a nap, we went out with the Graves for sushi. Cory and Kristina did a great job showing us the fine cuisine of San Francisco.