01 Feb

Procrastinating!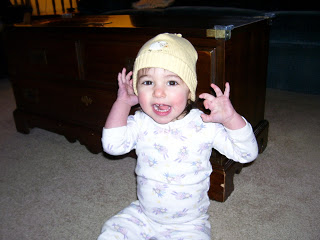 This one's for Seth and Mandy, since they gave Camilla this adorable hat. I post a lot of jammy pictures, don't I? Maybe Camilla is at her best after she's had breakfast and before she gets dressed for the day.
I had to include this shot because I can't believe I actually captured the block tower mid-fall! Also, you can kind of see the stars and moon in the background, which I painted myself! It was before Camilla was born, but it's my blog so I think I'm allowed to draw attention to my many talents. Ha!
Much to Mommy's delight, this is one of Camilla's favorite passtimes. My heart thrills when she brings me a book to read to her!
Okay . . . enough procrastination. I must get writing! It's just that I'm stuck in a really tough spot in my book and it's actually going to take work!
Wait, one more thing! My brother, Steven, leaves for West Africa today. Please keep him in your prayers. Thanks!