23 Dec

From the Archives: It was a warm December . . .

I'm too busy wrapping gifts and making cookies to write a new blog post this week, but I looked through old Advent posts and this one from 2011 resonated with me. In all your Christmas preparation, I hope this short post reminds you what it's all about . . .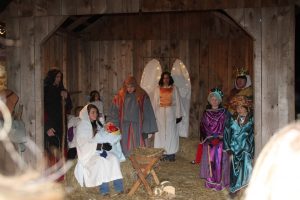 I apologize for my absence lately. I was super sick for a week. Laid out on the couch, couldn't do anything but order a few gifts online kind of sick. Thank God I'm feeling better because we had our Live Nativity at church this past weekend. It was cold, but it was good. And now, not only do I have gifts to wrap, cookies to bake, stockings to fill, and a few last minute presents to take care of, but I also have eighteen people coming to my house for Christmas dinner! In my mind, I used to be much more organized. I finished my shopping by Thanksgiving so that I could truly enjoy Advent. But in reality I'm not sure it ever went that smoothly. I wanted it to. But was there ever a Christmas free of stress? I mean, since I was about ten years old?
The next best thing, I suppose, is taking a moment away from the stress to remember what it is we're doing this for. To recapture the wonder we felt as children. In those moments, I realize it has nothing to do with whether Camilla gets the Lalaloopsy doll she just started asking for last week. It has everything to do with the Gift we received over two thousand years ago. It sounds like old news. It's all been said before. God's Son, born of a virgin.
For me, in this rare moment of quiet by the Christmas tree, it is new again. It can be new in all of our hearts if we step back from the craziness that Christmas has become. If we focus on the Christ Child. Who He was. Who He is. And how He continues to make us new.
"Because of God's tender mercy,
the light from heaven is about to break upon us,
to give light to those who sit in darkness
and in the shadow of death,
and to guide us to the path of peace."