24 Sep

What we're doing about school this year . . .

School has been in session for weeks now and my mind has been all over the place regarding our

schooling decisions this year

. Camilla started third grade at a small Christian school at the end of August. Adrian is staying home for Kindergarten. Evangeline is eating crayons and stickers, tormenting the puppy, and speaking full sentences. Long ones.
Camilla loved school from day one. I knew she would. She thrives in a classroom atmosphere. She's very social and she adores her teacher. She wanted to go on the bus the first day of school. She didn't need me to drive her in. That whole first week, she wished she could live at school. She wished school continued on the weekends. She even "kind of" wished I wasn't going on the field trip with her class.
What!?!? You're only (almost) nine, kid, and this is sorta hard on your mom!
For me, the first day was all right. The second day, I ended up putting away Camilla's work from last year in preparation for Adrian's homeschool year. For some reason, I can't seem to do this at the end of the school year in the spring. I'm just too eager for lazy summer days or something. Anyway, it wasn't the greatest combination of factors—sending Camilla off to school all day and then rifling through last year's memories. I ended up sobbing.
The next day was slightly better, but still rather tearful. I think I was mourning the homeschool dream. There's a part of me that wants to homeschool all the kids through high school. There's a greater part of me that knows in order to do that and remain sane, I'd have to hire substantial household help. And maybe an assistant. And a tutor.
That second part of me seriously considered sending Adrian's Sonlight curriculum back and enrolling him in the same Christian school Camilla attends. It might not be logical, but I saw how well Camilla had done over the past few years of homeschooling, how much she had learned and grown, and I just wasn't sure I could do a good job teaching Adrian. It seemed like a mammoth task, starting over from the "beginning." Also, my heart was aching with Camilla gone all day. If I'm going to face that agony again whenever Adrian goes to school, why not just get it over with all at once?
Soon, however, I dove into our Kindergarten year, and remembered why I wanted to homeschool him for now. Not for myself, but for him. (I know, duh!) For the past two years, he's gotten the short end of the stick. How many ends does a stick have anyway? He may have gotten no end of the stick because the baby and the school-aged child needed a lot of attention. He's the only boy AND the middle child. It's his turn now. I also don't think he needs to be in a structured environment all day. Not yet. Maybe next year.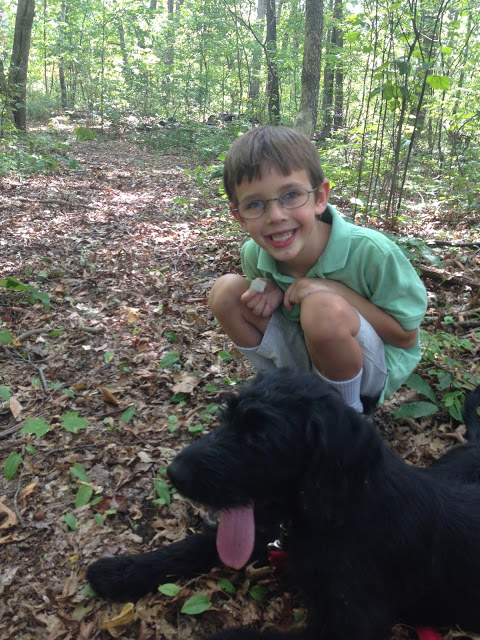 Camilla's attitude about school is still positive, which is really a great thing. She doesn't mention wishing she could stay there all the time anymore, though. And after the aforementioned field trip, she complained that even though I was there, she didn't really get to see me all day. That's actually been a common refrain lately. She's definitely feeling the lack of time with Mom. I'm trying to give her that time at bedtime, even though I am so tired myself and honestly, I'd like a little "me" time in the evening. It's the only time she really slows down enough to connect.
I do miss having Camilla around during the day, but putting her in school remains the best choice for our family. I'm slowly making peace with the fact that I can't be everything my children need.
None of us can. Even if we do homeschool. It's a lesson all parents learn—some more quickly than others, I think. This tiny baby comes into the world and you, the mom, are the sole provider of all her needs—with lots of help and support from the dad (in the best situations). You do everything for the baby and all she really needs is you. Then you blink and the baby doesn't seem to want you around that much. She's nine going on twenty-five . . .
I'm trying to frame our experience accurately in my mind. Homeschooling my daughter was good. I didn't fail. I'm not "giving up" or "quitting." I taught her and she learned well. It was hard, too—and overwhelming at times. It's all right to give myself grace and allow her to receive from other people now. I can only do so much, and I don't need to live up to someone else's ideal. God will give me strength to do what He's called me to do. I think I know what that is for today.