29 Aug

A Letter to my (Favorite) Daughter

Today is the day. You're at Kindergarten now. Mommy cried a lot yesterday—and this morning. And I'm sure I'll shed some more tears before the day is over. But the truth is, I am happy and excited for you.

Six years ago I was getting ready for your birth. I was painting your room. We were putting together all the gear they say you need to take care of a baby, not realizing how fast the next years would go. We blinked and we didn't need an infant swing anymore. Or an infant anything.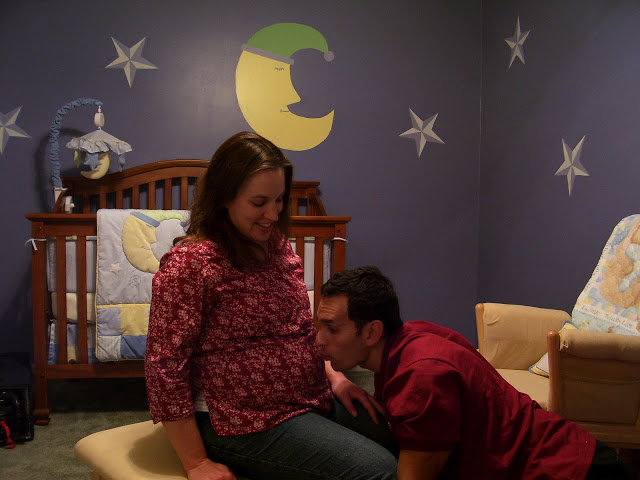 Daddy talking to you when you were in my belly. September 2006
I didn't know then how you would grow me. I didn't know I would change so much–relax into motherhood, make friends with dirt and stickiness and toys all over the place and not having any time to get anything done. What I thought about then was how I would teach you to be good. How our life would be neat and predictable and you would obey because I would do everything right from the very first day.
I didn't know that you would teach me about grace.
I worried a lot at first. I still do. But I've learned to trust God. He made you the way you are. He gave me my strong-willed, beautiful, imaginative daughter. To teach me patience and real love. To show me just a little glimpse of the way He loves me.
I heard someone say that God answers our prayers by giving us just what we would ask for if we knew everything He knows.
So God gave me you to show me that it's okay that I'm not perfect. It's all right that I can't keep the house clean or make good meals every night or even read all the mail every week month. It's okay that my daughter is spirited and fiery and people don't tell me all the time what well-behaved children I have. When I lose my temper and yell at you, God forgives me. And most of the time, so do you—eventually. And slowly I forgive myself, knowing He'll pick up the pieces of what I was trying to do and make something beautiful in His time.
I see Him doing that already. I see it in your love for your brother. In the faith that makes you look at me in the middle of your bedtime prayers and say, "Mommy, maybe God is healing Pastor Laurie because we're praying for her."
I'm happy and excited for you because I know you're going to a good school where people care about you and you'll learn about God. I know you'll love it and I'm grateful we can send you there.
My heart aches at this first step in letting go. But I'll always be here for you.
And I'll always love you.
Camilla's first day of Kindergarten! August 29, 2012