29 Feb

A Sad Story

I am writing a post complaining about the weather. I never thought it would come to this. I know there are really sad things going on in the world. I do. But humor me people, okay?

See that photo in my header at the top of my blog? Yes, the one with the two most beautiful children in the world walking through a winter wonderland. Forgive me if you're reading this post in a few months when I'm sure I will have changed the header photo. And also forgive me for being so html-un-savvy that the photo is not centered as it should be. I used blogger's settings and they are sorely lacking. Someday I will learn how to blog like a grownup.

Back to the photo, though. It was taken in January when we had one spectacular day of snow for sledding and making snow angels. It was beautiful. I believe we went skiing the next day.

And then it was gone.

That was it. Now, if we lived in the Carolinas or Tennessee, I would understand. That would be a good winter. But we live in the north, my friends! And we like snow!

So here is the sad story of my poor children waking up one morning to see a thin dusting of snow on the ground and clamoring to play outside and when they got there, this was their snowy day.
That's a sled in the background. They had to roll down the grassy hill rather than using it.
Sad.
And here's what they did instead of sledding and making snow people.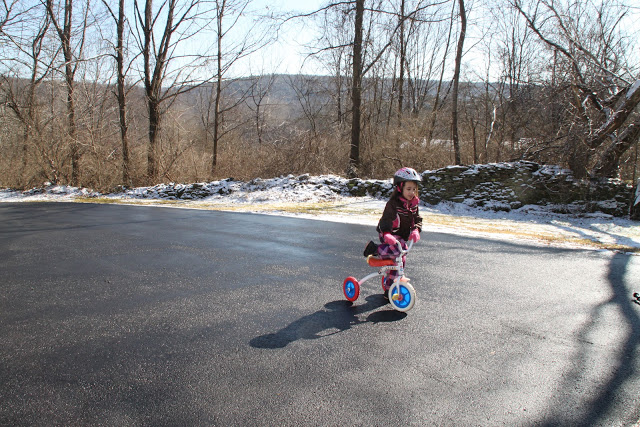 We rode bikes all winter. Some people might think that's a happy story. And I can't honestly say that I wished I was putting hats on two little heads and mittens on four little hands every day for the past three months. No. I definitely had my moments of rejoicing that they could go play outside without much ado.
Still, it is about to be spring. We really haven't had winter. We have months of mild weather ahead of us with precious few sweet snow memories to carry us through. Todd and I bought ski passes this year (of all years) and they were not worth the money we spent. I've hardly been able to curl up with a cup of hot cocoa and watch the snow fall outside my window.
Okay, so I am actually watching the snow fall right now, but it's supposed to turn into rain later so I know it won't last. I will enjoy it while it's there, though. There's nothing like a snowstorm.
All you snow-haters can rant and rave at me, but I remain steadfast. You can have your 60-degree winter. I like mine in the 20's.