25 Apr

Back on the wagon . . . for the moment, anyway.

Okay, I'm not going to apologize anymore. One of my sisters-in-law said I shouldn't, so I'm taking her advice. I'm just busy. I have two little kids and a ginormous house to keep relatively clean, as well as a huge yard and garden, a penchant for cooking . . . okay, you get the idea. If you've read my "About Me" section lately, you know I have many and varied interests. Honestly, if I can get through a week accomplishing just a few of the things I planned to do, I feel fulfilled. And so, I haven't had much of an internet presence lately. Which is actually fine with me, except for the blog factor. I would like to blog more because it helps keep me on track with writing. But I did say I wasn't going to apologize anymore. So on to what I've been up to . . . A LOT!

Hanging out with my little bro . . .

He tried to teach me to take better photos with my camera, but I don't think he succeeded.
Hunting for eggs . . .
"Palling around" with my new friend
Lena Roy
, granddaughter of
Madeleine L'Engle
. Lena made a three-hour car trip just to come to our local Barnes and Noble to sign her book
Edges
! It was wonderful to meet her in person.
Planting seeds with overzealous young 'uns. . .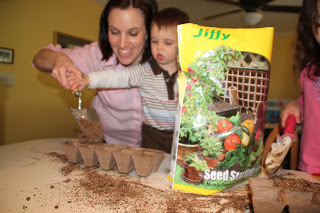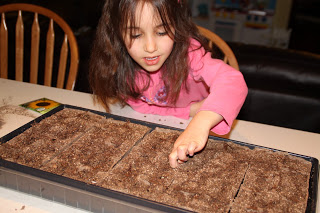 I also succumbed just a little bit to our culture's tendency to search high and low for the perfect Easter attire. Odd, isn't it, that a day we spend celebrating our Saviour throwing off His graveclothes, we feel the need to array ourselves in some kind of splendour? But it is a glorious celebration. Every year, I wish I had spent more time preparing my heart, remembering the Passion, and anticipating the wonder to come. And every year, I still stand in awe of my Jesus, the price He paid, the agony He endured, and the overwhelming joy I feel on Resurrection morning!
I'm actually quite pleased with the imperfection of this family photo. We're not perfect people and I'm not even going to pretend we are. Hopelessly flawed, yet forever grateful for His grace.