31 Jul

Thoughts on The Shack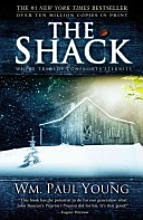 I don't call this a book review, or anything official, but I did say in
this post
that I would try to follow up after I finished reading
The Shack
. Well, I finished it a long time ago–and what's worse is, I didn't buy it. I borrowed it from the library. This is unfortunate because I am a writing reader. I make notes in the margins, underline passages I like, and often make my own quote index in the back of a book. All this while telling Camilla not to write in books. Ahem. Before I returned it to the library, I did write down some of my favorite quotes from the book. And I remember my impressions. I had a love-hate relationship with the book at first–not only because of the subject matter, mostly because some of it was rambling and wordy. But more often than not, while I was immersed in the pages, the words rang true in my soul. When I set it down, I almost felt like I had been reading the Bible. (Calm down now, I said "almost".) Wm. Paul Young's portrayal of Father, Son, and Holy Spirit was that real, that true to the character of God. As I read
The Shack
, I often found myself thinking, "Yes. This is the God I know. This is
my
Jesus!"
The Father is Papa, a woman, and a black woman at that, the Son is Jesus, an ordinary-looking man, and the Holy Spirit is Sarayu, a wispy, ethereal woman-like spirit. I'm not going to get too deep into the storyline or explain why God is portrayed as a woman–if you have a problem with that, you'll have to read the book for yourself. While it's not the most well-written book in the world, it is amazing. My favorite professor in college used to talk about two facets of literature–form and content. Many times, I read what modern critics deem "good writing" and I think, Well, sure the form is beautiful, but the content doesn't even deserve the paper it's taking up! With The Shack this was not the case. Maybe the form could use a little polishing, but the content! Oh, the content!
I'll give you just a little taste of this feast of God's presence.
People are fond of talking about having our priorities right and, especially Christians, about putting God first. Sometimes it's insinuated that putting God first is equivalent to getting up early to read your Bible and pray. Now, there is nothing wrong with that quiet time, and I would benefit from having my quiet times more regularly, but the following take on that perspective just seemed so fresh to me.
From page 206, Sarayu speaking:
"The trouble with living by priorities is that it sees everything as a hierarchy, a pyramid . . . If you put God at the top, what does that really mean and how much is enough? How much time do you give me before you can go on about the rest of your day, the part that interests you so much more?"
Later on the same page, Papa said, "I want all of you and every part of your day."
There's much more I could share. . . but I'm not going to fill my blog with quotes. Read the book. Plow through the wordy parts and search for the gems that resonate with your soul. I'm so glad I did.