27 Sep

Trip to California: Part IV, Driving Down the Pacific Coast Highway

We had a great time with the Graves family in the Bay Area. A few things I forgot to mention: they took us to Buena Vista for Irish Coffee and they introduced us to Dim Sum! Yum! I'm probably forgetting something else, too. Thanks, Cory and Kristina, for being our tour guides and welcoming us into your home.

Sadly, we couldn't stay forever. Wednesday, August 20th. Todd, Camilla, and I rented a car and made our way down the Pacific Coast Highway. What a beautiful drive!

We stopped in Monterey and walked around a little bit, had lunch and then drove around Carmel, an exclusive town with gorgeous homes and exquisite views.
In Monterey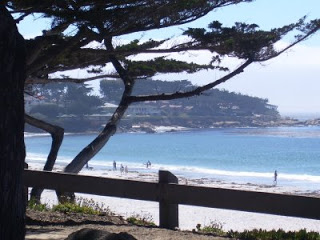 Carmel
Todd's favorite thing about Carmel. The Lamborghini, not the stop sign!

Another view from Carmel.
Camilla fell asleep as we drove out of Carmel, making it difficult to stop and take more pictures. We wanted her to have her nap, so we just enjoyed the view through the windshield.
After Camilla woke up, we stopped at Hearst Castle.
Hearst Castle through the telescope.
That night we stayed in a great hotel in Morro Bay. The next morning, we explored the town a little bit. We found a fun playground with statues of harbor seals and a pirate ship.
Camilla riding a seal.
We continued our trek down Route 1, ultimately arriving in LA. But we stopped for lunch at a Chinese buffet on the way. I just had to include these pictures of Camilla from lunch.
Yes, that is octopus. And yes, she did eat it. Or tried to, anyway! Mommy could hardly watch, though!