10 Aug

Fun with the cousins!

The entire week after Anne's graduation, my brother Steven, his wife Susan, and their four kids were in town visiting. They live in Michigan, so we don't get to spend a lot of time with them normally. It was great to see them! I took Camilla over to Grandma's and Grandpa's house a lot that week so she could play with her cousins, Sarah Grace, Josiah, Anna, and Hope. She had so much fun with them! One night, they all came over to our house for dinner. We took pictures of the five cousins on the couch. I just couldn't leave any of the shots out. They're hilarious!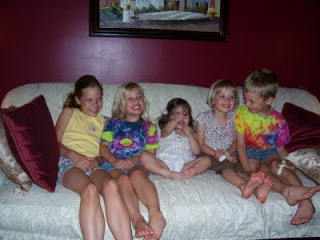 "Say Cheese!" Sarah Grace, Anna, Camilla, Hope, and Josiah
Almost perfect!
Camilla was thinking, "I'm outta here!"
Susan and Steven