14 Jul

Independence Day

On the 4th of July, my cousin Andy and his girlfriend, Lenacinth, came to stay with us. Andy and Todd went mountain biking while Lena hung out with Camilla and me. Camilla just loved Lena (and so did I). She still hasn't stopped saying her name! That evening, we went to a Scranton/Wilkes-Barre Yankees game. Andy is a huge Mets fan, so I was surprised that he wanted to treat us to a Yankees game, even if it was the minors. But he cheered for the opposing team, so we had a little rivalry going in the stands. We were in the top row of the upper deck. In the last inning, I had to take Camilla out to change her diaper. Thanks to my motherhood-induced fear of heights, I was a nervous wreck walking down those steep steps on the upper deck holding Camilla. We survived, and I climbed back up to join our group just in time for the fireworks. Right before they began, Todd turned to me and said, "Camilla will probably jump when they start." It hadn't occurred to me until that very moment that she might be hysterically scared. I thought, "Why did I walk all the way back up here? I'm going to have to carry her right back down again!" At the first explosion, Camilla said, "Mommy! Mommy! Mommy!" And kept right on saying it until she calmed down a little bit. But she never really enjoyed them. Halfway through, she sat on Daddy's lap, sucked her fingers and just stared at the fireworks. Last year, she actually liked them, but not this time. Here are some shots from Camilla's first baseball game.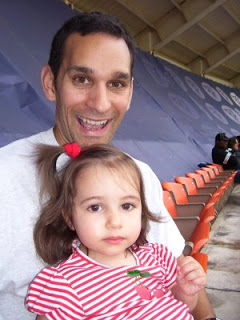 Hanging out with Daddy
Lena and Andy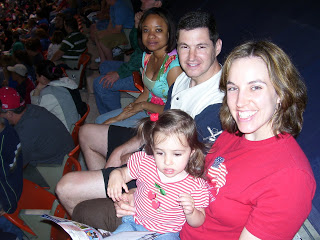 I was sure Camilla would fall asleep on the way home in the car, but she didn't. I guess the fireworks were too stimulating. She finally got to bed at 11:30–her latest night yet. (Well, I guess she stayed up that late as a newborn.) Thankfully, she slept until 9:45 the next morning. She was all tuckered out!