07 Dec

Our Tree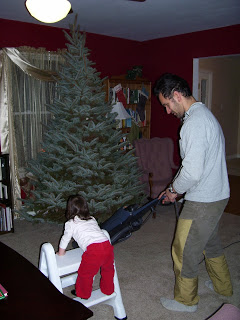 Here are some shots of the tree-trimming from last weekend. It never goes as planned, does it? I think we moms picture an idyllic setting with the whole family joyfully decorating a perfectly shaped Christmas tree. Obviously Camilla wasn't much help this year, though I did make sure she watched me put her special ornaments on the tree. And how it really went was this: We put the tree in the stand on Saturday. On Sunday afternoon, Camilla slept. Daddy put the lights on and discovered that half of them did not work. But, he had to go kill a goose for Christmas dinner (seriously), so Mommy tried to get the lights to work by pulling every single bulb out and checking it for a loose connection. When that didn't work, Mommy took all the lights off the tree and put on another set that did work–finally! Then Mommy put some ornaments on the tree all by herself, with James Taylor's Christmas album playing in the background.
It was very depressing. I even took a picture of myself putting the angel on top. Todd finished cleaning the goose and came in to help me for about 15 minutes before we had to get ready to go out for dinner to celebrate our 7th Anniversary! That evening, after dinner, Todd and I shared a romantic dessert in our living room with a glowing, half-decorated tree and boxes, boxes everywhere. I finally finished the whole project Monday morning. And now it is beautiful and we are enjoying our tree immensely!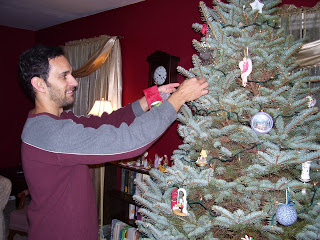 Here's Todd decorating the tree Sunday afternoon. His uncle had two geese at his farm. He was trying to get rid of them, so Todd decided we should have one for Christmas dinner. Now it's in our freezer. To those of you who plan to join us, we're also having turkey–in case you prefer store bought poultry that had a horrible life on some turkey farm. Oh, and about the beard, Todd hasn't had a very successful deer season so far. Some kind of hunting tradition.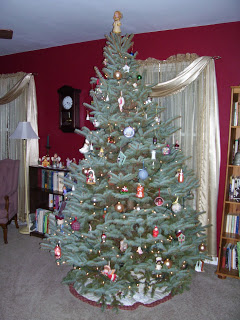 The Finished Product–
after much ado about nothing!
And here's one of Camilla out in the snow on Sunday. Unfortunately, the adorable snowsuit Grandma Roskos gave her is a tad too small. At least she got to wear it this once!