06 Dec

Christmas in New York

Last Wednesday, November 28th, we went to New York City. It was Camilla's first time and I explained to her as we drove across the GWB that she was entering the best city in the world. The occassion was Madeleine L'Engle's memorial service at the Cathedral Church of Saint John the Divine. I'm so sad that a great writer has departed from this earth, but the service was beautiful, a great reminder of who she was and an inspiration to me. While we were there, I remembered that years ago when I told her I wasn't published yet, she said, "You will be–if you're stubborn!" We also met another little girl named Camilla! We don't meet many Camillas, but of course the other Camilla's mom was a L'Engle fan and named her daughter after the character Camilla Dickinson in the books Camilla and Live Coal in the Sea. Such a great character, excellent books, and a beautiful name!

Earlier in the day, we did some sight seeing.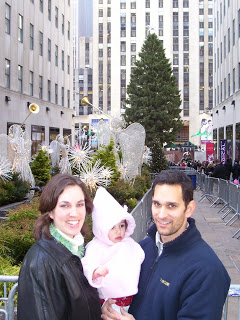 Rockefeller Center–long before the Tree Lighting
Camilla dancing on the "BIG" piano at FAO Schwartz.
My parents and siblings met us for the Memorial service and then we all tried to go back downtown to see the tree lighting. What a madhouse! It was wall-to-wall people and we never did see the tree after all that.