05 Sep

What I'm Into: August 2017

Oh my goodness, friends. August was rough. On a personal level, August was a very good month. I wrote a TON and had some wonderful times with my family. But my nation faced some very difficult times this month. From riots in Charlottesville, to Hurricane Harvey in Texas, to threats from North Korea. I'm praying for wisdom as I process all these events, and figure out what I can do to help.

"What I'm Into" is supposed to be rather lighthearted, though—or at least, it's supposed to be centered on my personal life. So I will turn my thoughts from tragedy in the world at large to the good things happening in the smaller world of my little home and family here in rural Pennsylvania.
What We've Been Reading . . .
The short answer? Not much! I finished reading The Indian in the Cupboard with the kids. We all thoroughly enjoyed it! Now we're reading Alice's Adventures in Wonderland by Lewis Carroll.
A while ago, we watched Alice Through the Looking Glass on Netflix. I enjoyed it so much that I wondered why I'd never read Lewis Carroll's books. Then, I found a volume on my very own bookshelf containing Alice's Adventures in Wonderland and Through the Looking Glass! My copy is very old, so I either inherited it or bought it at a used bookstore, but I'm thrilled I have it. I am loving this book! I've found myself laughing aloud at the puns! Camilla enjoys puns also, but they go over Adrian's head a bit unless I explain them. It's certainly a fun and fantastical journey, though. I enjoy reading literary nonsense almost as much as speculative fiction. It's interesting I haven't tried writing either of these genres. Perhaps someday I will.
Everything I've read to myself this month has been either research for my book or critique of another writer's work. Well, that's not entirely true. I have been reading the Bible as well. This month I delved into the book of Revelation again. I've always found end times fascinating, albeit utterly confusing. I like things laid out in a neat, orderly fashion. Revelation doesn't do this at all, so I honestly feel I won't completely understand what John saw in his vision until I get to see it with my own eyes.
What We've Been Watching . . .
I didn't want to get into another show. Remember I said that in my last "What I'm Into" post? Last year, re-watching Gilmore Girls consumed way too much of my time. But now, in the evenings, when the kids are in bed and I have laundry to fold, I've begun watching
This Is Us. My dear friends, let me tell you, my all-time favorite show is Parenthood. I think I've watched four episodes of This Is Us and it's already a close second. I love this show! It's so good! The themes and elements are so real. Every episode grabs my heart. I hope the rest of the series does not disappoint.
We finished watching The Lord of the Rings trilogy with the bigger kids, and now Camilla wants to see The Hobbit movies as well. But we haven't had much time for movie watching with everything else on our plate. What a nice segue to . . .
What We've Been Doing . . .
All I've been doing is writing. But that's nothing new. I want to share with you what's been happening in the cracks between writing time!
Todd organized the Fourth Annual 5K for our kids' school. We took last year off, so it doesn't seem like an annual event right now, but that's what we're calling it anyway. It was a successful fundraiser and lots of fun as always! Camilla and Adrian both ran it this year. Camilla was way ahead of me and Adrian opted to walk most of it with his teenage cousin Natalie. She has such a good heart, she refused to leave him in the dust as his mother did. Ahem.
We went camping at Raystown Lake with our friend Andy. This was therapeutic for me. Before we left, I was very busy working on my novel. A pretty big part of me did not want to mess up my momentum by going on vacation. It took me at least a full day to relax, but then we had a wonderful time mountain biking, swimming, listening to music at a John Denver tribute concert, and watching the campfire. It's odd for me to say I had a great time mountain biking, but I really did! Todd is an expert mountain biker. Early in our relationship, he used to take me with him and I would practically die every time. I'd cry tears of frustration because he was so far ahead of me. More recently, everyone who goes biking with him tells me he's insane (in a good way). So now I've relaxed my standards a bit, and I don't worry about trying to keep up with my husband. The beginner trails at Raystown Lake were just right for me. I biked with the two bigger kids and let Todd ride with Eva, who was on a balance bike. So, for once, I was actually way ahead of him. I felt bad for him for a minute or two. Then I remembered that Todd and Andy would have plenty of mountain biking time together during our trip and I didn't feel bad anymore.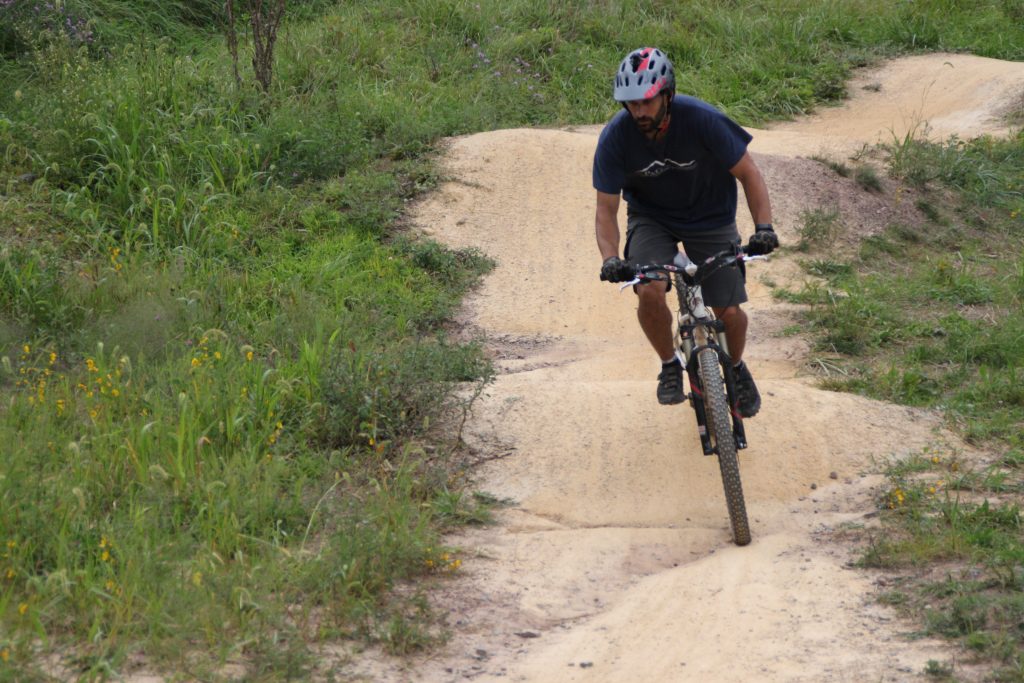 After we got home from camping, Todd's cousin Gretchen and her husband and son came and stayed with us. They live near Seattle, but Gretchen's daughter started school at West Point this summer. Between visits with her, they came down to see all the cousins and aunts and uncles living in Pennsylvania. We got to spend some extra time with extended family and eat excessive amounts of delicious Italian food!
That next Sunday, Todd and I sneaked out for our favorite kind of date. We love to do something active outside together, and this time it was canoeing. I even told him I might be willing to try another mountain biking date, as long as it's not much harder than the beginner trail we rode at Raystown.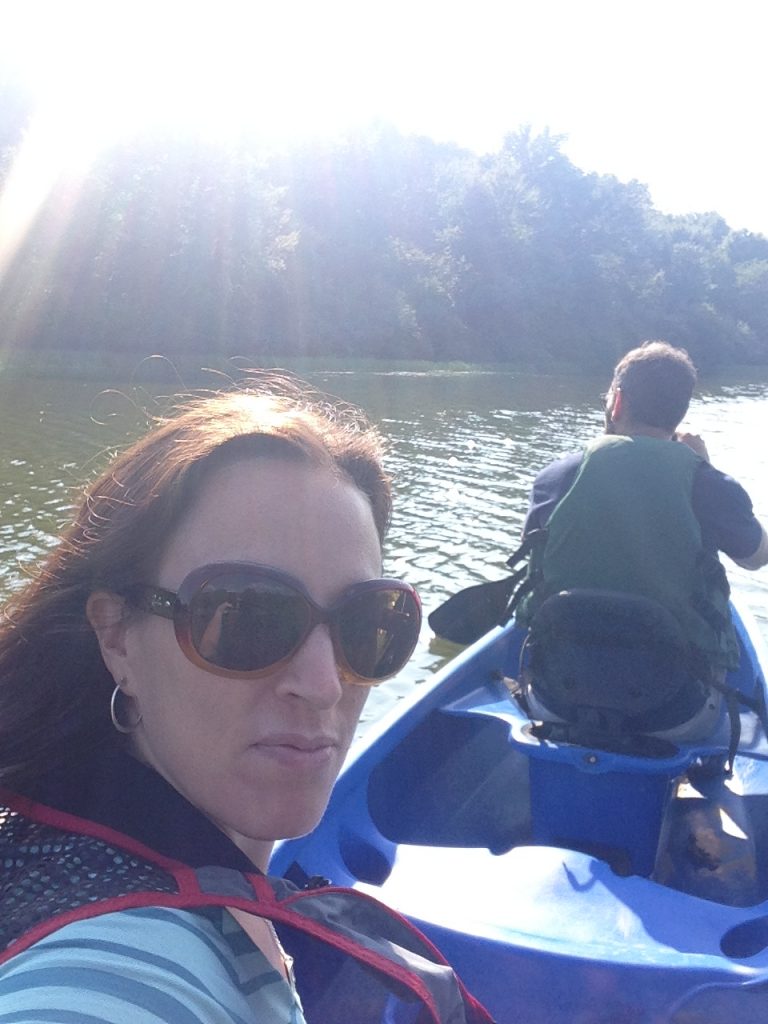 We watched the solar eclipse through our shadow boxes. Next time I'm getting eclipse glasses!
We found these verses from Luke 21 interesting in light of the eclipse and everything else happening in the world today:
25 "There will be signs in the sun, moon and stars. On the earth, nations will be in anguish and perplexity at the roaring and tossing of the sea. 26 People will faint from terror, apprehensive of what is coming on the world, for the heavenly bodies will be shaken. 27 At that time they will see the Son of Man coming in a cloud with power and great glory. 28 When these things begin to take place, stand up and lift up your heads, because your redemption is drawing near."
We don't know for sure when our redemption will be fulfilled, but we can be ready and look forward to it!
Moving on with the mundane (relatively speaking), we went to the Harford Fair for the first time in years. It wasn't mundane. It was fun!
We "harvested" chickens! Some of you might be grossed out by this. I certainly was! Our friends raised chickens the free-range way and we helped harvest them. Todd was the "chicken whisperer" and we all worked at different tasks involved in the process. At the end of the day, we took home ten ready-to-cook chickens for our freezer. That part is the wonderful benefit of this whole production. We've always been interested in finding good sources for our food. It seems to be more challenging as our family gets older.
The bigger kids started school. They were ready. I was more ready. I loved having them home for the summer, but toward the end we felt the need for the structure imposed by a school schedule! They love their new teachers and are already settling into their little school again. Eva starts preschool later this week.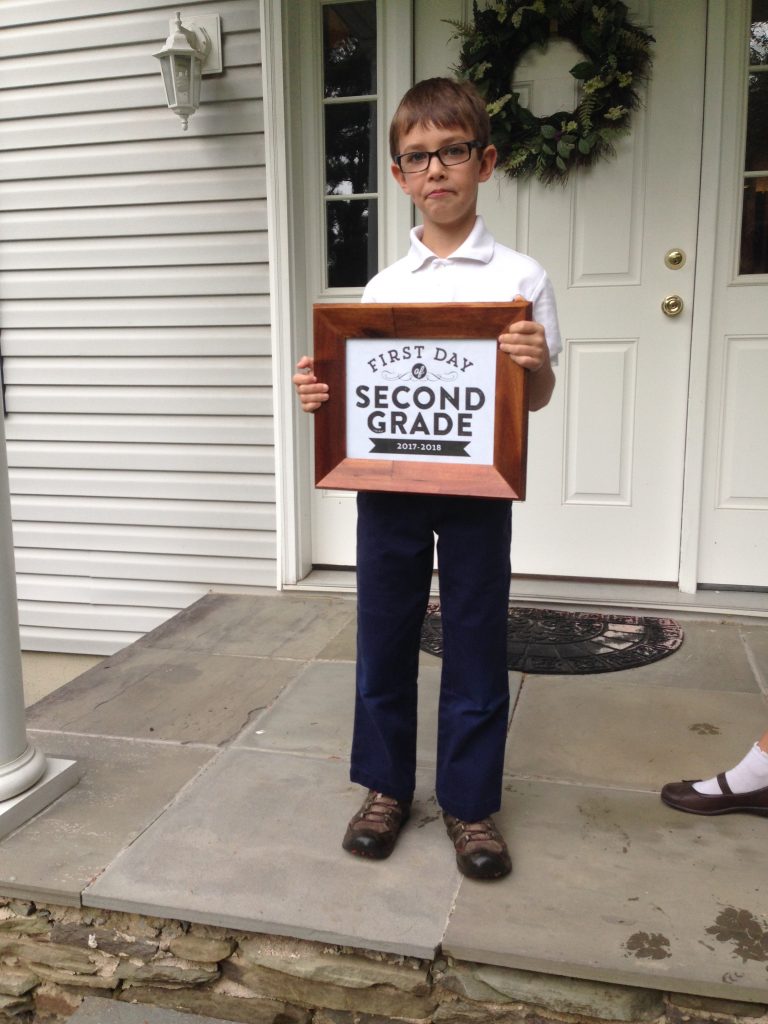 Although our summer was fairly cool and rainy and I didn't feel ready for fall, I think I've turned the corner now. I'm looking forward to the routine of autumn days. To birthdays, pumpkins, and apple pie.
I hope your August was full of hope in the midst of the uncertainty in this world.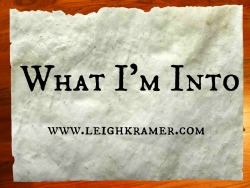 Disclosure: This post contains affiliate links. If you click them and make a purchase, you help support my work without paying any more for the product. Thank you for your support!