02 Sep

What I'm Into: August 2016

And summer is gone. Just like that. I'm linking up with

Leigh Kramer

today to share what August looked like for the Treats.

What we've been doing . . .

We managed to pack a lot of fun into the last month of summer. We watched some of the Olympic Games. I used to spend a lot more time watching the Olympics. Even though I'm not much of a sports enthusiast, I enjoy Olympic sports and I'm a little bummed that I didn't get to watch more this year. I unwittingly scheduled a camping trip smack dab in the middle of them. The days before and after our trip were, of course, filled with preparation and cleanup! So, I missed most of the Games. That's okay, though. The kids enjoyed reenacting some of what they observed.

Camping was fun! I love to be in the outdoors, away from technology, forced to commune with nature and my family. But I've discovered that my love of camping depends almost entirely on the weather. This year was a little wet and that made for less relaxation and more work. Especially upon returning home. We did have some good times, though. The kids loved riding their bikes around the campground and making new friends. We spent some much-needed time at the beach, playing in the sand and water. We went to church in the outdoors and had some great campfire moments. And of course, I dragged everybody on some hikes.

We were in one of my favorite places in the world, Ricketts Glen State Park, and I couldn't let another year go by without hiking the Falls Trail. The last time we did this hike, Adrian was Eva's age and he walked most of the treacherous trail himself, rather than riding in the backpack. Eva was just as motivated as Adrian, but after a while she seemed so tired that I forced her to ride on Todd's back until we were away from the sheer cliffs around the waterfalls! She was not happy about that, but she got over it and took a nap.
Bridge Over Troubled Water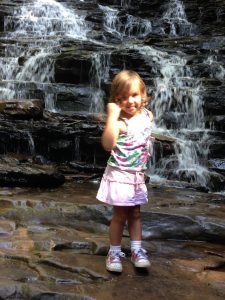 It's hard to stand still!
All smiles!
Mother-Daughter Selfie!
It seemed like we'd just come home from camping and Todd had to turn around and go away for work. He was gone a whole week, which is unusual for him. We kept busy with school shopping and soaking up the last drops of summer, but we were all very happy when he returned!
Getting ready to welcome Daddy home!
He came home just in time for his mom's 80thbirthday party! We had a great day honoring my wonderful mother-in-law. I'm so grateful for Todd's parents, the way they raised him, and how they continue to pour into my children's lives. They are truly a blessing!
The Birthday Girl with her granddaughter (one of them)!
And Camilla and Adrian started school Wednesday! The pictures tell most of the story. We had a little drama getting on the van, but all is well now. I'm looking forward to watching them learn and grow this coming year. So far, I am not feeling any regrets about being a "homeschool dropout."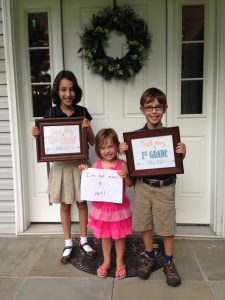 What We've Been Reading . . .
Not much! We finished most of the books we started last month.
The Voyage of the Dawn Treader
is definitely one of my favorite Narnia books. I finished
Chains
, and it didn't wow me at all. It was useful for research, though. It also reminded me that sometimes if your book is a bestseller, it just means you have a good marketer. My aim is to write beautiful prose, compelling characters, gripping plots . . . not sub-par novels that are marketed well. Of course, if I could meet those goals AND be on the bestseller list, that would be ideal.
I'm still listening to Cutting for Stone. It's beautiful and haunting.
What I've Been Listening To . . .
Mostly
Cutting for Stone
, but I've really enjoyed a few podcasts, too. Tsh Oxenreider of
The Simple Show
, talked with
Katherine Pershey
about Daily Spiritual Practices. I was super-intrigued by the concept of
Lectio Divina
and have been trying to incorporate it in my life in small ways.
The other day, Eva was playing with my phone and accidentally started Tsh's latest episode, which happened to be and interview of one of my favorite authors,
Shauna Niequist
. I say she's one of my favorite authors, but I've only read one of her books,
Bread and Wine
. I loved it, though, and I want to read more. Also, I really love her as a person and I wish I could meet her. Amen.
Things I love . . .
Sweet Frog and their "Kids Eat Free" Wednesdays.
PB&J at the park
Curry. Apparently if I hear the word "curry," I have to make it for dinner.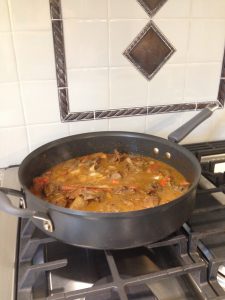 Summer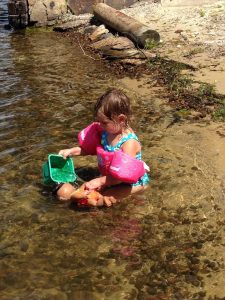 I hope your summer was as sun-filled as ours!