16 Jun

Ode to my Smooth-Surface Electric Range

Yesterday marked 16 years since the love of my life popped the question. I just realized this a moment ago.

I was thinking about the date because I wondered just how old our range is. It was a wedding gift from Todd's parents, so it's nearing sixteen years in our possession. And it is moving to a new home soon.

Of all the tasks and decisions involved in renovating the kitchen, choosing a new range may have been the most exciting for me. I love to cook! I love to bake even more! I'm not sure if that's come across on this blog very well. It's not a food blog. While I may have blogged about food occasionally in the past, I think I've gotten away from that in recent years. Honestly, I haven't exercised my baking love as much as I would have liked in recent years, either. A friend of mine was present a few weeks ago when I asked Todd what kind of cake he would like for his birthday. She noted that she buys her family's cakes at the grocery store.

Side Note: There is no shame in that! If that is you, I applaud you for getting off the Pinterest-perfect train. Good job!

"That's fine," I replied. "But I really, really like to bake."

"You do?" she asked.

"Yes," I said. "I want to bake our cakes from scratch!"

Weird. I know.

Back to the range—I thought I wanted a pro-style range for a while. We even laid out our kitchen with a 36-inch space for a larger range at first. But then we started reading reviews and yada, yada, yada . . . we eventually determined that

THIS

was my dream range.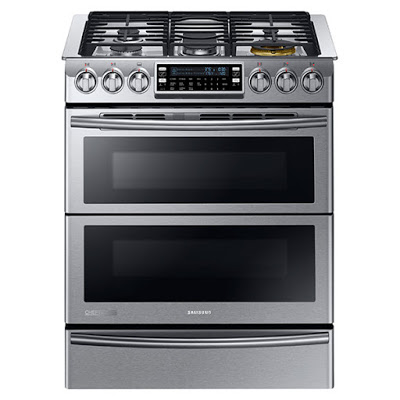 I was so excited about switching to gas and we found a good deal on this range, so it was one of the earliest items we purchased for our kitchen reno. It's been sitting in the garage for two months. Since we need to install the hood before we can use the range, and the backsplash needs to be finished before we install the hood, and the countertop needs to be installed before we can do the backsplash . . . the range will be the last thing to go in the kitchen. Sigh.
But! This has given me a chance to wish Sweet Sixteen to my good-old smooth-top electric range. I chose a smooth surface to make cleaning it easier, knowing I would detest scrubbing out drip-pans. Wasn't I clever? In those days I thought I could streamline my cleaning and make my life easier. I didn't realized that eventually three kids, a dog, and a husband would take over the house and cleaning would be far from streamlined and closer to futile. Ah, but it has been fairly easy to clean the stovetop. I've just gotten used to the burn marks. They're part of the story.
One of my canning adventures. Who says you can't can on a smooth top?
The range has served me well, though. I start thinking about this and I get sentimental.
I remember the first dinner I made the day after we got home from our honeymoon. Saucy chicken and roasted potatoes. (I hope I made a vegetable, too. I'm sure I did.) So many meals have been cooked on that stove-top, so many birthday cakes baked in the oven.
We learned to make cheesecake together, this oven and I. Desserts so delectable my friends told me I should go into business.
"And take all the fun out of it?" I said. "Never!"
When I was pregnant with Camilla, during a flurry of intense-cleaning-sparked-by-nesting, I knocked over our knife block and nicked the porcelain edge of the stovetop. I was aghast. But thankful I hadn't cracked the whole top. I kicked myself for months over my clumsy mistake. Now I'm rather fond of that nick. It's part of the story, too. There's another nick in the porcelain, and I can't remember how that happened. Funny how things like that stop being so important.
Chocolate Chip Pancakes for Camilla's Second Birthday. note the chip in the porcelain.
But the oven . . . the oven! Pies. Banana bread. Carrot cake. Hershey's Perfectly-Chocolate Chocolate Cake. Baker's One-Bowl Brownies. Gluten-free versions of everything. This range fueled my culinary prowess from its humble beginnings. And now we are going to say good-bye. Sometime soon.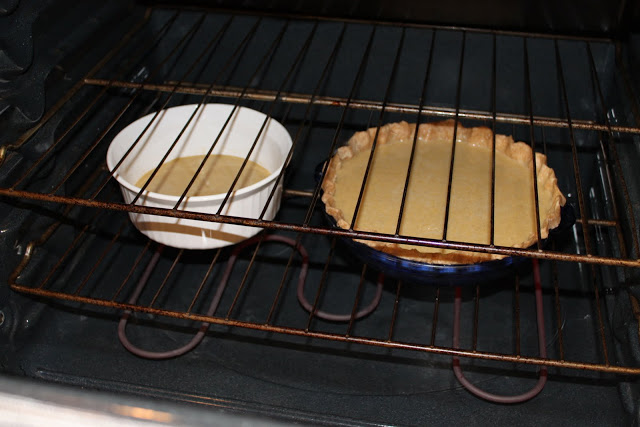 Pumpkin Pies baking in my dear old oven!
If we ever get the countertop and finish the backsplash.
It's like saying good-bye to an old friend. The stove will grace the kitchen of our rental property, the house we lived in when we were first married, the place where it all began. So perhaps it's really going back to its rightful home. Or perhaps it's like moving the mother-in-law into the apartment over the garage.
"Thanks for all the help over the years, but you'll be out of the way here!"
Either way, we're getting a newer, shinier model.
I just hope it can live up to its predecessor.