29 Oct

Allume–Part One

Remember how last year I was all bent out of shape because I didn't make it to

Relevant

? Well, this year I was there.

Only it's not called Relevant anymore. Now it's called

Allume

.

I think of it, affectionately, as "The Conference Formerly Known as Relevant." (You know, like "The Artist Formerly Known as

Prince

"!)

The point is, I went. And it was not what I expected and it was not how I imagined it would be, but it was exactly what I needed.

I'm still trying to figure out what happened to me this past weekend.

I was looking forward to it ahead of time. Kind of. I signed up at the end of February. I was trying to blog more often then and I thought I needed to take my blog to the next level. At the same time, I was working out my book deal. I still love blogging now, it's just that the book has been more consuming than I dreamed it would be and it has drawn me back to my "other writing". The kind of writing that doesn't end up published for the world within 24 hours of spewing the words out onto a screen.

I just kind of forgot about Twitter this summer. And that's where I made most of my connections with people going to Allume.

And then I had a roller coaster of an autumn.

I don't know how candidly God wants me to share about this, but Saturday night,

Ann Voskamp

told me (and 400 other women) to "write your broken-hearted story."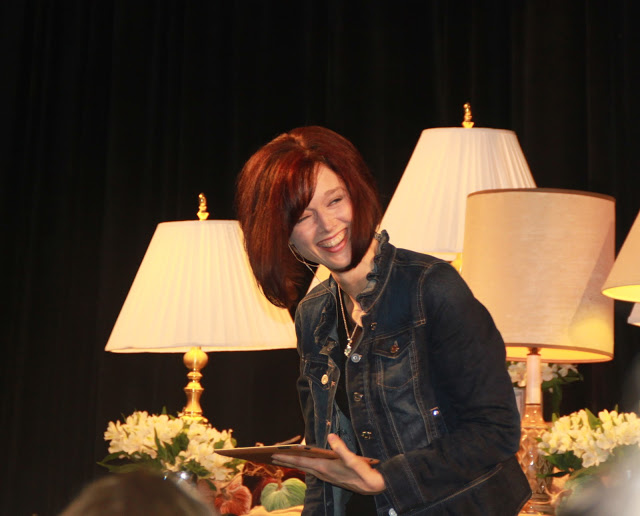 Ann Voskamp speaking at Allume
A few weeks ago, my heart broke into a million little pieces.
The list of things I haven't been through just got shorter.
Childhood Sexual Abuse.
Kidnapping/Attempted rape
The latest installment:
Miscarriage
That's one I never wanted to live through. (Not that I was hoping to experience the others.) It's been a fear in the back of my head for many years. So many women I love have lost a baby. So many women God loves have lost babies. Why should I be exempt?
When I was pregnant with Adrian, I wasn't afraid.
When I was pregnant a month ago, I was afraid. Very. But I tried to put it aside. I tried to trust God. I told myself there was nothing I could do anyway, and no way I could know . . . so why not just imagine that everything would be fine and at the end of May we would welcome our third healthy child?
But God didn't give me a dream this time. And we won't be having a baby in May. That baby is with Him.
I was pretty pissed off at Him for that. Because as many times as I told myself I wasn't exempt, it didn't prepare me for my baby dying inside my womb.
As often as it had happened to other women, it hadn't happened to me.
I thought He loved me.
I'd walked with Jesus long enough to know how His love feels and that's not how this felt. It felt like Him taking my heart and mashing it to a pulp and throwing it against the wall.
So I wasn't scouring Twitter and checking the Allume page on Facebook in the two weeks leading up to the conference.
I was recovering and grieving.
And then all of a sudden it was time for Allume and there really was no reason not to go. But I was more than a little nervous. What if I spent the whole weekend by myself? I tweeted some people. I packed my stuff. Then I got into the car and drove to Harrisburg.
I've been thinking about when a friend died fourteen years ago. Jeff was only 25 and at his funeral, his brother, speaking about Job, said, "We can't curse God and die because we still won't have Jeff and we won't have God either."
I went into a downward spiral after that. I knew God was good, but somehow I let myself think—or I let someone trick me into thinking—that He's a sinister prankster who sets us up for disappointment knowing that we have nowhere to turn but to Him.
But I've known Him long enough to know that's not who He is.
So I can be totally pissed off at Him.
Yet I still know He's good. I still know He loves me.
I just don't understand.
That's what I told Him on the way to Allume. In the midst of worship music and tears.
I got out of the car in Harrisburg knowing He loves me and my family and the baby we never held. Knowing that I was broken and hurting and so not-healed.
But knowing that I trust Him.
For what? Not to make everything okay here. On earth.
Just that His heart is good.
It was shaky. But it was faith. And that's how I arrived at Allume.