14 Sep

Dear me,

Hello sixteen-year-old self, it's me, your 35-year-old self. There are a few things I'd like to share with you. You're living at a great time. 1993—entering your junior year and thinking that now you have to be serious. Yes, I remember. You were still having fun in 10th grade, goofing off with friends.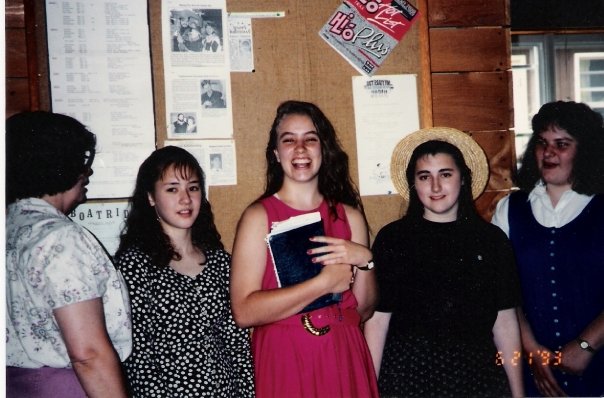 This photo gives a new meaning to the post title . . . Dear Me!
But now, all of a sudden, it seems like you'd better pay attention. It's the beginning of the end of high school, after all. Before you know it, you'll be an adult. Slumber parties and watching Christian Bale in Newsies will be a thing of the past. At least, that's how you see it in your time. But you'll always have those memories. You'll make more in the years ahead. And do I have news for you . . . life doesn't end when you grow older. In fact, your thirties are going to be some of the best years of your life.
Things aren't going to go exactly the way you think they will. You're not going away to college, except for a spectacular semester in Colorado. You're going to commute to King's College, which may seem boring, but there will be perks. The English Department rocks. And you probably wouldn't get to know your little sisters very well if you went away to school. (Oh, yeah, you're going to have little sisters by the way!)
I would tell you to be bold, take more risks, decide what to do for yourself. I know you want to, but I also know you have to grow into that. At this point you're too scared of making mistakes. You're afraid if you step out of line, then God won't go with you. It's okay. Soon you're going to figure out that He's always with you. He sees your heart and He'll guide you—even when you mess up. That's where grace comes in.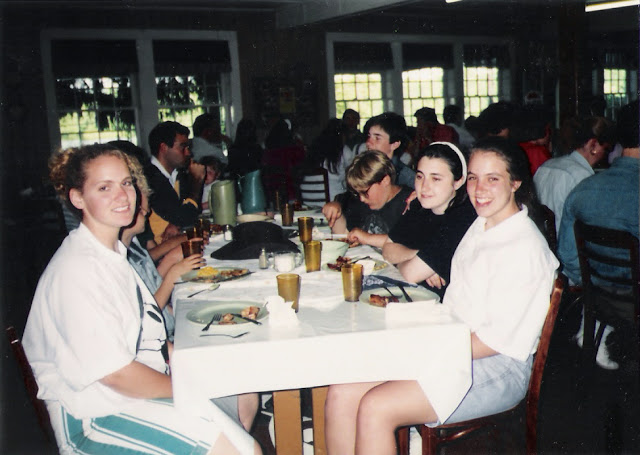 I don't want you to think I have it all figured out. Far from it. I guess I'm just more comfortable with not knowing the answers. And I have nineteen more years under my belt, so I can look back and see how God's guided me, how He's going to guide you.
I know there are some things you're wondering about . . .
Your future husband. You already know him. But I'm not telling. Except you think he's kind of hot, especially when he plays the drums at church. But he's off to college this fall and he never talks to you, so what are the chances?
You're going to have amazing children. But not eight of them (at least not by age 35, anyway). And you won't use any of those names you've already picked out. Might as well throw that list away, along with the plan you drew of your dream house. You're going to live in a great house, but no house is perfect and things like that will matter less to you one day—but you will draw plans and dream of remodeling . . .
You will keep writing. Your career doesn't come together quite the way you picture it happening, but it will come together in God's time.
You're going to have heartache, and sorrow, and pain—some even worse than you've already faced. But it will make you stronger. And it will help you grow into that person you're dreaming of becoming. (No, silly, not the skinny super model—the other person, the kind, strong, understanding, creative, confident woman.)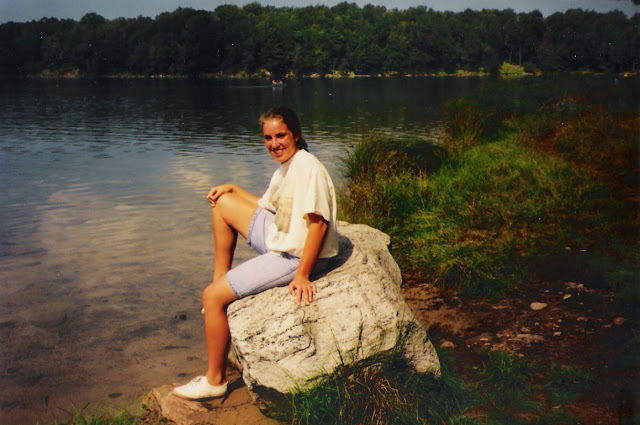 You're going to have some mountaintop moments, too. Honeymooning in Hawaii. Skiing in Colorado. Hiking the Grand Canyon. Sky-diving. Traveling Europe and meeting family in Slovakia. Giving birth.
You have a lot to look forward to. And you're going to make it through the crap, too.
It will be okay. Just keep holding on to Jesus.
Love,
Me