05 Jul

June is gone! And Happy Fourth, too!

That was fast. I barely got the seeds (and seedlings plants that we bought at the nursery) into the beautiful rich dirt inside the garden fence . . . and then, June was gone.

Well, that's not totally accurate. We did our major vacationing of the summer in June. Todd and I sneaked off without the kids for a rip roaring good time at his friend's wedding.
This is the only photo of me at the wedding!
And then we reunited with our family in our favorite vacation destination: Avon, North Carolina. We love it there so much, this time we dragged all of Todd's immediate relations with us to celebrate his parents' 50th Anniversary. For the first time since before Camilla was born, I had the chance to try windsurfing (one of Todd's first loves) and I have decided that we should move to Avon and take up this sport full time. After spending way too much time in the sun, I was convinced this was a legitimate possibility and one that we would ultimately be satisfied with. Yes, I am completely irrational and crazy and I'm learning to love that about myself. One day maybe we will actually follow one of my hair brained notions and find ourselves immersed in an unconventional life somewhere. Wouldn't that be refreshing? After considering this particular idea for 24 hours straight, I did start to think maybe I would miss skiing once January came along. But I'm not taking it off the table entirely.
Cape Hatteras Light House
The entire family at Cape Hatteras Light House
The happy couple after 50 years of marriage!
Hands off, ladies! He's mine.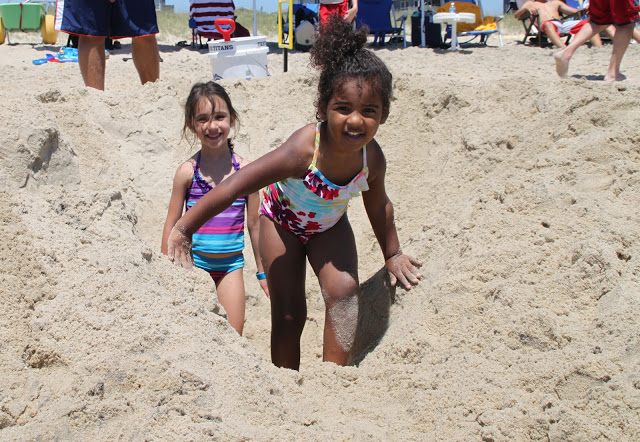 Fun in the sun and sand!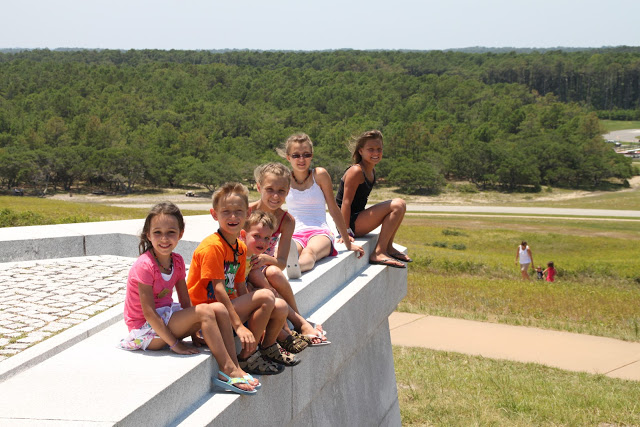 Cousins at the Wilbur and Orville Wright Memorial
We drove home from vacation and all of a sudden it was July.
This morning, Adrian recapped our Fourth of July celebrations for me.
He picked up his no-longer-glowing glow stick and said, "I got this at the fireworks last night. They were really loud. I covered my ears."
I had to correct him on two points. We went to the fireworks Tuesday night, not last night. And, Daddy and Mommy took turns covering his ears.
"Yeah," he said. "Daddy and Mommy covered my ears."
It was the first time in his life that he enjoyed the fireworks.
On the actual Fourth of July, we spent the entire day, just the four of us together, at one of my favorite places in the entire world, Ricketts Glen State Park. (I know, I have a lot of favorite places.) Our plan was to go for a hike and then spend the rest of the day at the beach, but we didn't get started on our hike until about 11:30 in the morning. Our kids are amazing little hikers. But we forget how much longer it takes to get places when you have tiny legs. The trail markers told us the loop we were doing was less than four miles, and somehow it took us 5 hours! I'm just grateful I didn't wear a watch or check my phone the whole time. It was relaxing hard work, hiking down and up the waterfalls–and a little bit stressful for me.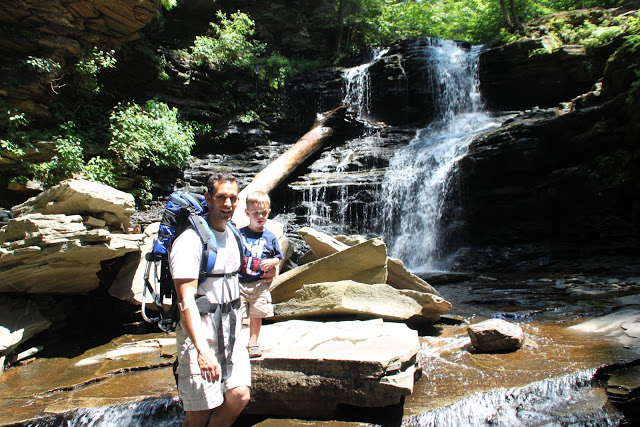 I made the mistake of telling Camilla that I wanted Adrian to ride on Todd's back because I was concerned about him falling off the edge of the trail. I don't know why I didn't realize this would scare her. Adrian ended up hiking most of it himself and for the first mile or so (when we were nowhere near the waterfalls yet) Camilla kept screaming for him to stop running ahead, even though he was only about ten feet in front of us. Then she started saying that she was scared of falling herself and she didn't want to go near any waterfalls. I tried to explain that I completely trusted her ability to stay on the trail, I just didn't think Adrian was big enough to have the same judgement she did. That didn't help. I tried to be positive and talk about how beautiful the waterfalls are and how much fun it would be to see them. That didn't help, either. She was actually in tears and almost paralyzed by fear!
When all else failed, of course I turned to prayer. She and I took a quiet moment together and I asked God to give her peace and assurance that she and Adrian were in His hands and she didn't have to worry about anybody falling. She finally relaxed and enjoyed the hike (with my continued encouragement and positivity).
It was an interesting exercise in trust and restraint for me. Todd allowed Adrian to hike a lot more of the trail than I would have liked. But I had told Camilla before we reached the falls that I trusted Daddy to watch Adrian. So I had to force myself to demonstrate this. I stopped myself from my usual worrying aloud. And whenever Camilla expressed concern, I reminded her to let Daddy take care of Adrian.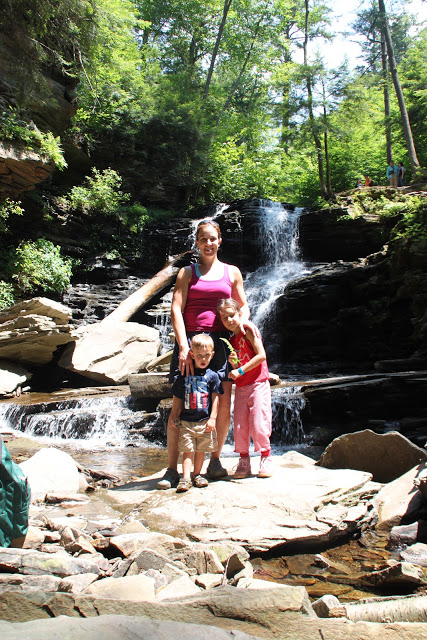 I'm not saying I trusted perfectly. I still made a few guarded comments. Todd isn't God, so it seemed appropriate to remind him, "You do know people have d-i-e-d here, right?" And it didn't seem out of line to say, "Two of us would be a lot happier if he rode in the backpack."
Ultimately, we survived, had a great time together . . . and reached the beach around 4:30, when most people start to head home. If we hadn't been so hungry, or if we'd brought more food, or if the snack shop kept serving sandwiches past 5 pm, maybe we could have stayed at the beach longer but as it was we had to head out after a couple hours. It was long enough to cool off and rest our aching, tired muscles.
We went home and lit some sparklers in the back yard, grateful for our Independence and proud to be Americans.