21 Mar

The aforementioned post regarding my writing retreat (with some other side notes)

So, I didn't write a running post on Monday.

Yeah, I figured nobody noticed. It was actually the third Monday in a row that I didn't write about training. A few weeks ago I was planning to post about it, but I had been working on so many other writing-related things that when I had the time (but not really), the thought of writing a little post nobody wants to read just to say I ran four miles, four miles, and eight miles seemed kind of silly. I suppose I could also have talked about how my weekdays were practically void of exercise. I squeezed one run in there Tuesday night and then Friday I ran four miles, went to the gym and squatted major weight. (Have I mentioned that I'm freakishly strong? Well, not exactly freakish, but hey, I'm a slow runner so I can brag about my strength, right?) Squatting major weight was brought on by first going into a class where the only equipment was an exercise ball and one of those light bars covered in foam. After twenty minutes of holding a ball over my head at various angles, I couldn't take it anymore. I walked out and loaded up the real bar on the squat rack. I felt bad, but is it my responsibility to take care of the feelings of every instructor at the gym? Maybe that sounds cold. I just feel a responsibility to use my time at the gym wisely. My children are sitting in a childcare room watching Spongebob Squarepants, so I want to make it worth that. Actually, I'm not sure anything is ever worth that and they really don't do that the whole time or even every time. Lately, they've mostly been playing with toys and admiring the new dinosaurs painted on the walls. But you get my drift, right? Any time I take away from them needs to be time well spent.

Speaking of time spent away from them,

I said I would post more about my writing retreat.

First, some background. In 2003, I received a phone call from Pauline. We had a mutual friend who recommended me as a potential member in her writing group. Pauline, Demery, Linda, and I met every other week to share our writing and give each other feedback. In 2008 we held our

first "annual" writing retreat

. In the summer of 2009, Demery deserted us to move to Austin, TX. She came back to visit in 2010 for our third retreat. It's been almost two years since that one, so we were well overdue. And I was particularly overdue, feeling very bogged down with "business" stuff and blogging (which is not my first love, although I love it). I needed to have some time away to connect with my muse. I knew the three of us would spend lots of time talking since we rarely get together now, but I was also longing for peace and quiet and time to be creative. And that is just what I got. It was wonderful. The only thing missing was Linda—it was just too hard for her to get away and join us.

Pauline and I flew to Austin on March 10. We had two layovers. In Detroit, when I was boarding the flight to Minneapolis, a man in a smart uniform told me there was no room for my rolling carry-on suitcase and he would check it through to my final destination. Wasn't that nice of him?

Next time I will fight him.

My bag was nowhere to be found at the Austin airport that night. And since it was a carry-on, I didn't have those "essentials" I might have packed had I been planning to check my luggage. So I talked for about half an hour to the mild-mannered man behind the counter at the baggage claim. I didn't mean to talk to him for half an hour, that's just how long he took to tell me anything that actually helped me. He was the kind of man who stays calm no matter the situation. I could tell. And he probably deals with a lot of not very calm people. There were ten people behind me in line, waiting to find out what to do about their lost suitcases. He kept typing on his keyboard and looking at his computer and telling me the same thing.

"We don't know where it is."

"The tag may have come off in transit. Sometimes they don't scan the bar code because they're in a hurry and they threw it on at the last minute."

"The bar codes on these gate check tags are actually too small to scan . . . there's no way to find out where it is."

I was looking at him, wondering how many times he was going to tell me essentially the same thing in that relaxed tone.

I said, "I'm actually really mad about this."

But I didn't sound mad at all. I sounded perfectly calm, just like he did.

Finally, I said, "Okay, so you don't know where it is. What do I DO?"

All the normal things. He gave me a folder with information and phone numbers to call. So at long last we scurried out of the airport, away from that hypnotizing little man, to Demery's car. We stopped at the grocery store on the way to our cabin. That took an extra hour or so. The cabin was supposed to be 45 minutes from Austin and I think it is—if you know where you're going and it's not really dark and foggy. I have no idea what time we finally found it, I just know I closed my computer and went to sleep wondering how on earth it had gotten to be 3:30 in the morning. I didn't figure that out until after I woke up five hours later. It wasn't really 3:30 when I fell asleep, it was 2:30—and really more like 1:30. Daylight savings had begun and I was in the Central Time Zone. My computer, however, was still on Eastern Time.

So I emerged from that time warp, to encounter this . . .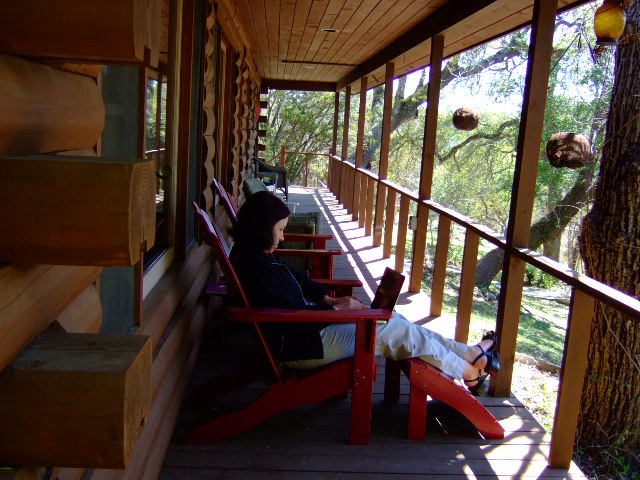 To sit with my laptop on my knees and write.
To eat yummy, healthy meals with friends and music.
To go on a run through ranch country. To soak in the hot tub and reconnect through long conversations.
Last Tuesday, we reentered earth and spent a day in Austin. We visited
Book People
, a famous indie bookstore. We drove around downtown Austin and Demery took us to the school where she teaches and her boys learn. We went to the
Alamo Drafthouse
, a movie theater in which they serve you dinner while you watch the movie. Then Demery took us to her house, where her three boys each performed for us from an array of talents including playing the recorder and flute, doing magic tricks, reciting poetry and playing the piano. Only a walk through the park could distract them from continuing all evening.
It was a nice introduction to everyday life again. Much better than the next morning when Pauline and I missed our flight by three minutes.
Yes. Yes, we did. And spent twelve hours in the Austin airport trying to get on another flight. Did I mention the
South by Southwest
festival was that week? Yeah, that would be why the line for security was so long. And we were not the only ones missing flights. Standby lists were up to seven or eight for any given flight. But, thank God, we made it home that night. And then I came back to normal life and had to learn how to be patient with a two-year-old and a five-year-old all over again. Wow. Five days away really made me forget how it works. I'm ashamed to admit it, but I actually found them annoying on Thursday and Friday. I really did miss them—but not the whining and crying and not being able to finish a sentence. No, not that. Just their sweet faces and hugs and kisses and little bodies snuggling into me. And talking with them about everything under the sun because everything is new and exciting and wonderful to them. Yes, I missed that. I missed them.
I loved the time away, but I'm glad my family is back together again under one roof.
I'm grateful for that.