22 Feb

Ten Inches of Snow!

I love snow! The horrendous 60-degree weather we had on Friday (ridiculous for February, I think) redeemed itself by melting away all the horrific ice in our yard and proceeding to shower us with ten glorious inches of powder Monday morning! My only complaint is that I had a cold, so I really didn't feel like staying outside in it for more than half an hour. Also, I would much prefer to be skiing in this, not just looking at it and wading through it and shoveling it. It is beautiful, though.

So are these kids, right? I think this is hilarious! Not only does Adrian appear to be just thrilled to be sitting out in the cold, but I completely forgot that Camilla still had face paint on her face from the Ice Festival celebration on Saturday. Yes, people, that means my children didn't have a bath–from Saturday morning till Monday night. Gasp! It also means that I took Camilla to church Sunday morning with a butterfly face.
Here she is, holding up the tape measure. She's grimacing because it's heavy and she dropped it a couple times before we finally got this shot. I think her thoughts run something like, "Really, Mom? Can I go play now?"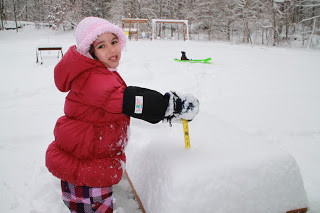 And just so you know, Adrian is perfectly happy sitting back there in that sled.