31 Dec

Ringing in 2011

Posted at 22:17h

in

Adrian

,

birthdays

,

celebrations

,

christmas

,

food

,

friends

,

illness

,

Lena Roy

,

reading

,

snow

,

winter

1 Comment

Now I am officially sick of peppermint. No, really, the evening following my last post, Adrian decided to keep us up most of the night, insisting on sleeping in our bed. He was miserably ill with a bad cold. The next morning I woke from what little sleep I had with a fiery sore throat and was sick over the Christmas weekend–and through my birthday, which was Monday. I honestly have not been able to stomach the thought of peppermint. A little ironic, isn't it?

I was tempted to have a pity party on Monday. Not only was I sick for my birthday, but we were planning to go to New York City for the day and it was hit by a major snowstorm, making the trip pointless even if I'd felt like going. So I resigned myself to staying home and was cheered by the thought of playing in the snow with the kids. But did

we

get any snow? Just a dusting–with some wicked wind. Really, though, after 34 birthdays, they don't seem so hard to come by anymore and I managed to enjoy the day. Todd was home and kept the kids occupied long enough for me to read, and thoroughly enjoy, an entire novel (

EDGES

, by Lena Roy). That evening we headed out to my favorite Thai restaurant, where I was subjected to a strange punishment inflicted on birthday persons. At this particular restaurant, the staff crank up a birthday song, turn down the lights, and light the disco ball.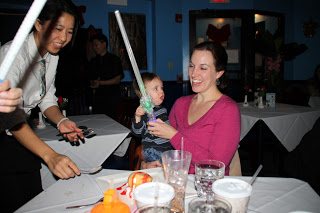 As you can see from the photo, they also bring the birthday girl a light saber. Adrian's look says it all. "Does Mom even know what to do with this thing?" Oh, and they brought fried ice cream–flaming!
So that was my birthday. Yesterday we finally made our trek to the City. It was everything it's cracked up to be. I'm trying to add photos from New York, but Blogger won't let me at the moment. Next post.
We had a quiet evening tonight. Lobster dinner, put the kids to bed, and later we'll watch the ball drop if I can stay awake that long. We were planning to celebrate with friends but their little boy is sick and I didn't want to risk exposing Adrian. He's had three mysterious illnesses already this month, and I'm not in a hurry for the next one. Here's to a happy and healthy 2011 for all of us!