01 Oct

Potpourri

It's been a while, but as you'll see, we've been very busy over the last few months. I spent a lot of the summer "nesting"–and now our house is perfect! Just kidding. But we accomplished some major tasks.

Todd completed our dining room walls.
Anne helped me put a fresh coat of paint on most of the rooms in our house!
Don't worry–I wore a gas mask to protect baby boy from the fumes!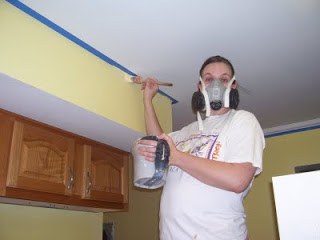 We hit the local Fire Company Carnival in early August and ran into some friends.
Here we are watching the Antique Parade.
And later, Daddy showed Camilla how to finish up a funnel cake.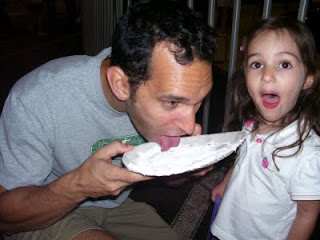 She was happy to follow his example!

Aunt Maryanne gave Camilla her first haircut–it was really just a trim, but Mommy was still a little tearful about it!
And cousins Natalie and Olivia joined Camilla in her baby pool!
We got a deal on a swingset that was too good to pass up! Our Michigan cousins were visiting for its arrival. Here, my sister-in-law Susan, my neice Sarah Grace, and Camilla try out the swings!
A classic shot of the four Roskos kids with their cousin, Camilla. Josiah is sure glad he won't be the only boy for long! He's getting three boy cousins this year!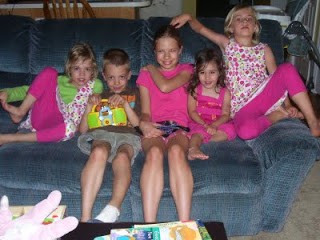 Camilla ate the first (and only edible) tomato from our garden. We had a lot of zucchini and carrots, as well as some pumpkins, but our tomatoes did not fair well.
And she moved into her big girl room, graciously giving her nursery to "Baby Brother!"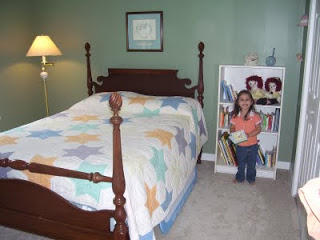 Todd and Alison attended a great celebration. My cousin Andy married the beautiful Lena. We all love her and we're so happy for them. Here I am dancing with Andy's mother, my wonderful Aunt Ruth, at the reception.
I was exactly eight months pregnant!
Now that I'm 38 weeks, 3 days pregnant, we continue with preparations for the baby, and also for a small celebration for Camilla's third birthday on Saturday. I can't believe my baby girl is three! Where did those years go? It just gives me more determination to enjoy the next few months as much as possible. I think our boy's babyhood may fly by even faster, simply because he's number two. I'm filled with gratitude when I think of the blessings God has poured out on us as though we deserve them. If I get a chance before I go into labor, I may post some belly pictures!