26 Jun

Wedding in Wisconsin

Finally I'm bringing you all up to date on our lives. This past weekend, Todd and I had our first weekend away from Camilla. Todd's good friend, Chris, got married in northern Wisconsin. Most of the women attendants from our wedding are married by now, and at long last the guys are starting to find their mates!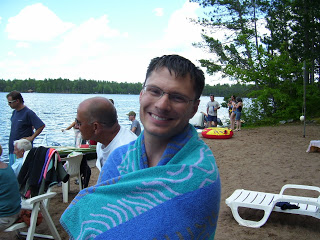 Chris at the beach party, shortly after we arrived last Friday. They had food, water skiing (don't ask how that went), and beach volleyball, among other activities.
Nikki's family had the weekend packed full of fun events.

Here we are at the Pre-Wedding Party Friday night: Nikki, Chris, Todd, and me.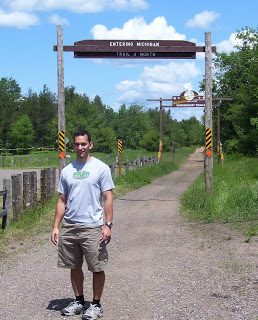 On Saturday, since the wedding wasn't until 4:30 pm, Todd and I took a drive up to the town of Land O' Lakes, right on the border of the Upper Peninsula of Michigan. Todd wanted to be able to say that we'd been to the U.P. Land O' Lakes was a nice little town. We walked around and browsed the shops, but we couldn't find the margarine lady anywhere!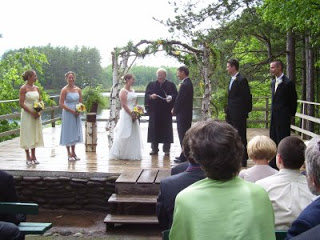 As we drove from our hotel to the outdoor wedding, the skies opened up it poured rain! Fortunately, it was a short-lived thunderstorm, and the sun had returned by the time the ceremony began. It was lovely, as you can see.

Dr. and Mr. Christopher Clairmont
Aren't we pretty?
Chris' best man, Kevin, and his wife, Christina, brought their ten-month-old baby, Emeline–a good reminder of why we left Camilla home!
Todd, Kevin, and Chris
The bride and groom.
So, Friday and Saturday were wonderful, but by Sunday I was ready to see my girl. Little did I know what would befall. First, our flight out of the tiny town of Wasau, Wisconsin was delayed. Then the delayed time came and went without so much as a boarding call, or even a staff member at the gate! Finally, a representative from another airline came over to our gate and told us he'd heard there was a major problem with our aircraft. We stormed the United desk and found out the problem was that we didn't have a pilot! Long story short, we flew from Wasau to Chicago at 10pm and missed our connection to Scranton. So we stayed in Chicago Sunday night and flew from there to Philadelphia Monday morning. When we got to the gate of our connecting flight in Philadelphia, we discovered that they had overbooked it. Boy, did they have one angry mother on their hands. Thank God, one kind soul gave up his seat and we were able to go home on that flight. I can't even describe how happy I was to see my little Camilla. I think she was happy to see us, too. She was very quiet for the first ten seconds. But then she said, "Mommy! Daddy!" and I've been hearing "Mommy" every since, often punctuated with the word she seems to have perfected over the weekend, "No!"
Thanks to Ben, Jill, and Haven for staying with our munchkin while we were gone, and to my parents for rescuing her when we couldn't make it home Sunday night. I know she was well-cared for, even though I was a bit of a mess by the time we got home!