24 Jun

Writing Retreat

June has been so crazy for us. I have a lot to catch up on, beginning with my Writing Retreat in early June. Every few weeks I get together with three wonderful women writers, Demery, Linda, and Pauline. I call them my "Writing Group" because we help each other by reading our work and offering constructive criticism. But they're so much more than a writing group. They're also great friends and priceless support. I joined them in 2003, but they were meeting for a few years before that. This year, due in great part to Pauline's encouragement, we took our first (annual, hopefully) Writing Retreat. We went to beautiful Ricketts Glen State Park and stayed in a cabin. It was my first time away from Camilla overnight, but even though I was nervous about that, I found that I really needed this to reconnect with myself as a writer. It was absolutely wonderful! The four of us spent time alone and together, writing, hiking, communing with God, and sharing our work.
The first day I took a walk by myself along Lake Jean and got to see (from shore) the islands I used to explore with my little brother, Jonathan. It brought back great memories! Here's a shot of Kestrel Island, our favorite.
The four of us in front of one of the waterfalls in the Glen. L-R: Alison, Demery, Pauline, and Linda.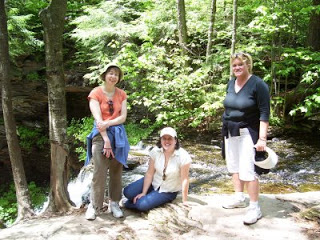 Pauline, Dem, and Linda along the trail.
I took tons of pictures of the falls. It's hard to decide which ones to post. They're all so beautiful!